The Mars Room: A Novel (Hardcover)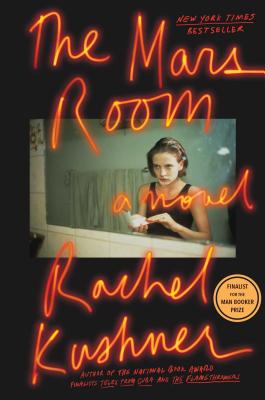 $27.00
Usually Ships in 1-5 Days
Staff Reviews
---
A dark and searing novel tracing a woman's struggle to survive in a world without good options.
— Mike Kelleher
May 2018 Indie Next List
---
"Rachel Kushner writes some seriously smart and gorgeous prose, so when she headed to prison in The Mars Room, I went. It is dark. It is painful. At times, the level of detail in the book and its fabulously invented and drawn characters make it feel like a documentary. We are struggling with so many social justice issues across the country right now it is overwhelming, and I worried that The Mars Room would push me over the edge. Instead, I couldn't stop reading. What really happened? Who is to blame? How will things turn out? How can we make things better? Ultimately, Kushner's great success is profoundly illustrating a very simple message: It's complicated."
— Sara Hinckley, Hudson Booksellers, Marietta, GA
Description
---
NEW YORK TIMES BESTSELLER • TIME'S #1 FICTION TITLE OF THE YEAR • NEW YORK TIMES NOTABLE BOOK OF 2018

FINALIST for the MAN BOOKER PRIZE and the NATIONAL BOOK CRITICS CIRCLE AWARD

LONGLISTED for the ANDREW CARNEGIE MEDAL

"Gritty, empathetic, finely rendered, no sugary toppings, and a lot of punches, none of them pulled." —Margaret Atwood via Twitter

"A page turner…one of those books that enrage you even as they break your heart." —The New York Times Book Review (cover review)

"Brilliant and devastating…a heartbreaking, true, and nearly flawless novel." —NPR

"With her richly textured third novel, Kushner certifies her place as one of the great American novelists of the twenty-first century." —Entertainment Weekly

From twice National Book Award–nominated Rachel Kushner, whose Flamethrowers was called "the best, most brazen, most interesting book of the year" (Kathryn Schulz, New York magazine), comes a spectacularly compelling, heart-stopping novel about a life gone off the rails in contemporary America.

It's 2003 and Romy Hall is at the start of two consecutive life sentences at Stanville Women's Correctional Facility, deep in California's Central Valley. Outside is the world from which she has been severed: the San Francisco of her youth and her young son, Jackson. Inside is a new reality: thousands of women hustling for the bare essentials needed to survive; the bluffing and pageantry and casual acts of violence by guards and prisoners alike; and the deadpan absurdities of institutional living, which Kushner evokes with great humor and precision.

Stunning and unsentimental, The Mars Room demonstrates new levels of mastery and depth in Kushner's work. It is audacious and tragic, propulsive and yet beautifully refined. As James Wood said in The New Yorker, her fiction "succeeds because it is so full of vibrantly different stories and histories, all of them particular, all of them brilliantly alive."
About the Author
---
Rachel Kushner is the bestselling author of three novels: the Booker- and NBCC Award–shortlisted The Mars Room; The Flamethrowers, a finalist for the National Book Award and a New York Times top ten book of 2013; and Telex from Cuba, a finalist for the National Book Award. She grew up in San Francisco and lives in Los Angeles.
Praise For…
---
"Like Denis Johnson in 'Jesus' Son,' Kushner is on the lookout for bent moments of comic grace…The Mars Room is a major novel."
—Dwight Garner, The New York Times

"Kushner uses the novel as a place to be flamboyant and funny, and to tell propulsive stories, but mainly as a capacious arena for thinking."
—The New Yorker

"[Rachel Kushner is] one of the most gifted novelists of her generation—on the same tier as Jennifer Egan and the two Jonathans, Franzen and Lethem…[The Mars Room is] a page turner… blackly comic…It's one of those books that enrage you even as they break your heart."
—Charles McGrath, The New York Times Book Review (Cover Review)

"The Mars Room affirms Rachel Kushner as one of our best novelists…her stories slink in the margins, but they have the feel of something iconic."
—Leah Greenblatt, Entertainment Weekly

"Kushner is a woman with the chops, ambition and killer instinct to rub shoulders with all those big, swinging male egos who routinely get worshipped as geniuses."
—John Powers, Fresh Air

"[A] tough, prismatic and quite gripping novel…wholly authentic…profound…surprisingly luminous."
—Sam Sacks, The Wall Street Journal

"A disturbing and atmospheric book...Ms Kushner makes the prison, and the world beyond its walls, vivid."
—The Economist

"A searing, tragic look at life in the prison-industrial complex, covering poverty, sex work, mass incarceration, education, trauma, suffering, love, and redemption. Somehow, Kushner's rapid-fire, imaginative prose makes it seems effortless."
—Vogue

"Potent…an incendiary examination of flawed justice and the stacked deck of a system that entraps women who were born into poverty…The Mars Room is more than a novel; it's an investigation, an exercise in empathy, an eyes-wide-open work of art."
—Kelly Luce, Oprah

"[An] electrifying take on the chaos of 1980s San Francisco."
—Sloane Crosley, Vanity Fair

"Phosphorescently vivid."
—Megan O'Grady, T Magazine

"Superb and gritty… Kushner has an exceptional ability to be in the heads of her character."
—Eve MacSweeney, Vogue

"A powerful undertow pulls the reader through the book. I didn't consume it so much as it consumed me, bite by bite..."
—Laura Miller, Slate

"Kushner's characters are so authentic and vividly drawn that with each new novel, it's easy to assume she's tapped out. Yet in The Mars Room, she brings to life another remarkable heroine."
—Time Magazine

"Kushner is a masterful world-creator, and her accomplishment here is unparalleled."
—Nylon

"Kushner's writing and thinking are always invigorating, urgent, and painterly precise."
—Vulture

"Stunning… a gorgeously written depiction of survival and the absurd and violent facets of life in prison."
—Buzzfeed

"Gorgeous…The Mars Room sings."
—Sasha Frere-Jones, Bookforum

"A revelatory novel about women on the margins of society…it's a true feat of Kushner's extraordinary writing that such profound ugliness can result in such tumultuous beauty."
—Maris Kreizman, Vulture

"Stunning…Heartbreaking and wholly original."
—Bustle

"A probing portrait of contemporary America."
—Entertainment Weekly

"Unflinching."
—Elle

"Kushner's great gift is for the evocation of a scene, a time and place."
—Harper's

"Reading The Mars Room is a profoundly affecting experience, very nearly overwhelming, and yet it absolutely must be read. Kushner's first two novels (Telex from Cuba, The Flamethrowers) were National Book Award finalists. It would be baffling if The Mars Room does not win this year's."
—Cory Oldweiler, amNewYork

"[A] stunning new book… Kushner deploys the masterful storytelling she's known for…an unmistakable voice. "
—Town and Country

"Brilliant and devastating…Kushner doesn't make a false move in her third novel; she writes with an intelligence and a ferocity that sets her apart from most others in her cohort. She's a remarkably original and compassionate author, and The Mars Room is a heartbreaking, true and nearly flawless novel."
—Michael Schaub, NPR.org

"An essential novel...Kushner is a bit of a magician, exploring bleak territory with pathos and urgency that makes it nearly impossible to stop reading."
—AM New York

"Kushner is both tough and darkly funny in writing about her characters' situations, and she writes not so much for us to empathize with them, but rather to understand them. The Mars Room is a captivating and beautiful novel."
—BookPage

"Kushner's writing is clipped and sharp, as she tells the story of [Romy's] adjustment to life behind bars — and how she got there."
—The Week

"An enormously ambitious project profoundly rooted in a particular time and place… Kushner's greatest achievement in this unique work of brilliance and rigor is to urge us all to take responsibility for the unconscionable state of the world in which we operate blithely every single day."
—Jennifer Croft, The Los Angeles Review of Books

"Rachel Kushner cements her place as the most vital and interesting American novelist working today...The Mars Room makes most other contemporary fiction seem timid and predictable."
—Michael Lindgren, The Millions

"Absorbing…The Mars Room is impeccably researched without ever seeming dry or preachy… insightful…authoritative…haunting."
—Alexis Burling, San Francisco Chronicle

"Kushner's got the talent to justify the hype…The Mars Room builds to a redemption that comes from hard truth, sharp and broken and shaped by an author of exceptional power and grace."
—Jeff Baker, The Seattle Times

"The book is beautifully written, without sentimentality or agenda, and at times even [with] a sly and dark humor."
—Holly Silva, St. Louis Post-Dispatch

"Readers will savor every detail of Ms. Kushner's descriptive passages, which bring ferocious beauty to even the ugliest surroundings."
—Leigh Anne Focareta, The Pittsburgh Post Gazette

"[Kushner is] an exceptionally talented and philosophically minded writer."
—Jessica Zack, The San Francisco Chronicle

"Heartbreaking and unforgettable… [The Mars Room] deserves to be read with the same level of pathos, love, and humanity with which it clearly was written."
—Publishers Weekly, Starred Review

"Kushner, an acclaimed writer of exhilarating skills, has created a seductive narrator of tigerish intensity… This is a gorgeously eviscerating novel of incarceration writ large."
—Booklist, Starred Review

"A searing look at life on the margins…This is, fundamentally, a novel about poverty and how our structures of power do not work for the poor, and Kushner does not flinch…gripping."
—Kirkus Reviews

"Kushner is back with another stunner…without a shred of sentimentality, Kushner makes us see these characters as humans who are survivors, getting through life the only way they are able given their circumstances."
—Library Journal
Coverage from NPR