The Death of Aztec Tenochtitlan, the Life of Mexico City (Paperback)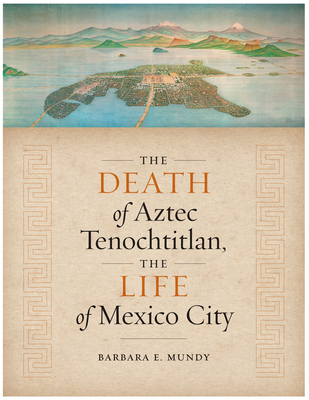 $45.00

Usually Ships in 1-5 Days
Description
---
Winner, Book Prize in Latin American Studies, Colonial Section of Latin American Studies Association (LASA), 2016
ALAA Book Award, Association for Latin American Art/Arvey Foundation, 2016
The capital of the Aztec empire, Tenochtitlan, was, in its era, one of the largest cities in the world. Built on an island in the middle of a shallow lake, its population numbered perhaps 150,000, with another 350,000 people in the urban network clustered around the lake shores. In 1521, at the height of Tenochtitlan's power, which extended over much of Central Mexico, Hernando Cortés and his followers conquered the city. Cortés boasted to King Charles V of Spain that Tenochtitlan was "destroyed and razed to the ground." But was it?
Drawing on period representations of the city in sculptures, texts, and maps, The Death of Aztec Tenochtitlan, the Life of Mexico City builds a convincing case that this global capital remained, through the sixteenth century, very much an Amerindian city. Barbara E. Mundy foregrounds the role the city's indigenous peoples, the Nahua, played in shaping Mexico City through the construction of permanent architecture and engagement in ceremonial actions. She demonstrates that the Aztec ruling elites, who retained power even after the conquest, were instrumental in building and then rebuilding the city. Mundy shows how the Nahua entered into mutually advantageous alliances with the Franciscans to maintain the city's sacred nodes. She also focuses on the practical and symbolic role of the city's extraordinary waterworks—the product of a massive ecological manipulation begun in the fifteenth century—to reveal how the Nahua struggled to maintain control of water resources in early Mexico City.
About the Author
---
Barbara E. Mundy is Professor of Art History at Fordham University. She coedited Painting a Map of Sixteenth-Century Mexico City: Land, Writing and Native Rule with Mary Miller, and, with Dana Leibsohn, is the author of a pioneering digital work, Vistas: Visual Culture in Spanish America, 1520–1820. Her first book, The Mapping of New Spain: Indigenous Cartography and the Maps of the Relaciones Geográficas, won the Nebenzahl Prize in the History of Cartography.
Praise For…
---
Masterful…This is a rich work that is filled with insights and significant conclusions. Quite simply, it is a tour de force.
— Ethnohistory

With a cartographer's sensibilities and a streetwise art historian's presence of mind, Mundy (Fordham Univ.) has produced a formidable reimagining of the Indigenous landscapes that underpin the growth of the largest metropolis in the American hemisphere.
— Choice

Deeply researched, insightfully conceptualized and argued, and written in an engaging style...a book of particular importance.
— caa.reviews

[T]his book is exceptional, poised to make an immediate and permanent impact on the discipline of art history and beyond. The carefully argued, eloquently written, and beautifully illustrated text was well worth the wait. . . . Mundy's monograph exhibits the process of academic maturation in the very best light; she presents herself as a scholar whose sound early work provides a firm foundation for her own midcareer fluorescence, much like the renewal of Mexico City itself.
— Art Bulletin

[A] highly engaging book that crosses disciplinary boundaries.
— Early American Literature

This richly illustrated book deserves to be on the shelf of everyone interested in Mesoamerica, Spanish colonial history, and city planning...This tome transcends disciplines like no other, combining maps, photographs, and exquisite reproductions of codices and other colonial documents into an enlightening and insightful package.
— SMRC Revista

[Mundy's] methods are refreshingly graphic and accessible to the reader. A visual delight, this book's ample use of high-quality illustrations allows the audience to reference the same manuscripts and maps consulted for study, as well as the specific visual and textual clues upon which Mundy builds her arguments.
— Urban Island Studies

Mundy's meticulously argued and lavishly illustrated book is a much-needed and innovative contribution to research on pre-Hispanic and early modern México-Tenochtitlan.
— Sixteenth Century Journal

Mundy contributes to knowledge about the history of a sixteenth-century city, but she also presents refined, close readings of some of the most canonical visual images from early colonial Mexico.
— The Historian

Mundy's book does more than any other single study to put to rest not only the trope of the destruction of Tenochtitlan but also any disparagement of native inhabitants' contributions to the emergence of Mexico City…The Death of Aztec Tenochtitlan, the Life of Mexico City makes an indisputable case for the presence and impact of native actors in the creation and management of the Viceroyalty of New Spain's capital.
— Hispanic American Historical Review