I Was Fine Till the Crab Moved In. (Hardcover)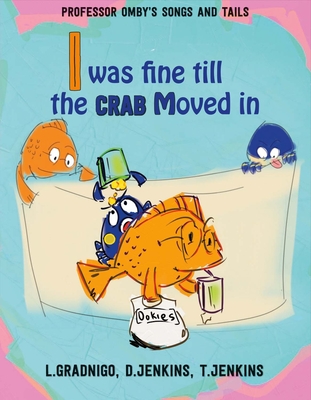 $20.99
Email or call for price.
Description
---
"I was fine till the crab moved in" is the debut children story of a new series of books by "Professor Omby's Songs and Tails" written by L. Gradnigo and D. Jenkins, Illustrated by T. Jenkins. It chronicles the friendship of Jack the Goldfish and his new brother Oscar the crab. Initially as the two are thrust into a new relationship, emotions are tested and tempers are thrown. Learning to live together can be one of the hardest things to do, but over time the two must learn to adapt to their new arrangement and get along or end up in a very harry situation. With a little patience and understanding even the greatest enemies can becomes the best of pals.
About the Author
---
As a child at heart Latera, aka L. Gradnigo, couldn't help but take her love of all things animals, fantasy, and fun and funnel it into children's stories. With a degree in musical theatre written word and telling stories are apart of her core. To see how a tale can transform someones from the stage inspired Latera to translate that same emotion to the page. To enrich a child, is to enrich your life. To inspire imagination, is to inspire a generation of innovators and world changers. From a very early age her parents instilled in her a love and need for literature. From fantastical bedtime stories told by her mom, to weekly trips to the local library with her dad to scan the aisles in search for a mystery to read, literature was ever present. With every word she writes, Latera hopes to light a spark in every child's mind that will ignite into an eternal fire for life and learning.