San Francisco's Queen of Vice: The Strange Career of Abortionist Inez Brown Burns (Hardcover)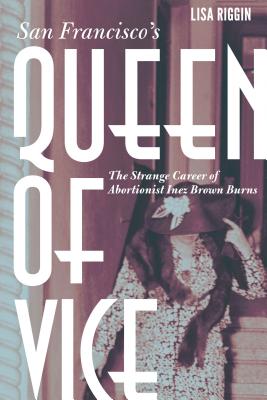 $27.95

Usually Ships in 1-5 Days
Description
---
San Francisco's Queen of Vice uncovers the story of one of the most skilled, high-priced, and corrupt abortion entrepreneurs in America. Even as Prohibition was the driving force behind organized crime, abortions became the third-largest illegal enterprise as state and federal statutes combined with changing social mores to drive abortionists into hiding. Inez Brown Burns, a notorious socialite and abortionist in San Francisco, made a fortune providing her services to desperate women throughout California. Beginning in the 1920s, Burns oversaw some 150,000 abortions until her trial and conviction brought her downfall.

In San Francisco's Queen of Vice, Lisa Riggin tells the story of the rise and fall of San Francisco's "abortion queen" and explores the rivalry between Burns and the city's newly elected district attorney, Edmund G. "Pat" Brown (father of the present governor of California). Pledging to clean up the graft-ridden city, Brown exposed the hidden yet not-so-secret life of backroom deals, political payoffs, and corrupt city cops. Through the arrest, prosecution, and conviction of Burns, Brown used his success as a stepping-stone for his political rise to California's governor's mansion.

Featuring an array of larger-than-life characters, Riggin shows how Cold War domestic ideology and the national quest to return to a more traditional America quickly developed into a battle against internal decay. Based on a combination of newspaper accounts, court records, and personal interviews, San Francisco's Queen of Vice reveals how the drama played out in the life and trial of one of the wealthiest women in California history.
 
About the Author
---
Lisa Riggin teaches history at California State University, Fullerton. 
 
Praise For…
---
"Lisa Riggin's San Francisco's Queen of Vice . . . tells with impressive research the story of abortionist Inez Brown Burns."—Marvin Olasky, World Magazine

"An important, timely book and an enjoyable read."—Rebecca Kluchin, Journal of American History

"With a novelist's eye for detail and pacing, Lisa Riggin recounts a chapter of San Francisco history that mixes vice and virtue as only the City by the Bay can. . . . It is a gripping narrative that chronicles America's struggle with an issue that remains a critical political battleground even today."—Ethan Rarick, author of California Rising: The Life and Times of Pat Brown

"Lisa Riggin has penned an insightful, entertaining, and important book that reads almost like a novel. . . . A must-read for anyone interested in twentieth-century California history and the slippery relationship between politics, society, and culture."—Kathleen A. Cairns, author of The Case of Rose Bird: Gender, Politics, and the California Courts