From Back Alley to the Border: Criminal Abortion in California, 1920-1969 (Hardcover)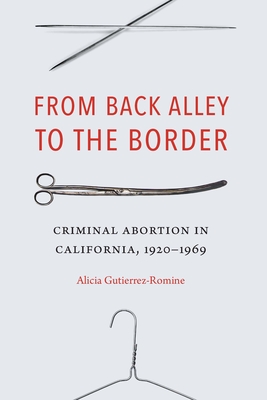 $55.00

Usually Ships in 1-5 Days
Description
---
In From Back Alley to the Border, Alicia Gutierrez-Romine examines the history of criminal abortion in California and the role abortion providers played in exposing and exploiting the faults in California's anti-abortion statute throughout the twentieth century. Focused on the women who used this underground network and the physicians who facilitated it, Gutierrez-Romine describes the operation of abortion providers from the 1920s through the 1960s, including regular physicians as well as women and African American abortionists, and the investigations and trials that surrounded them.

During the 1930s the Pacific Coast Abortion Ring, a large, coast-wide, and comparatively safe organized abortion syndicate, became the target of law enforcement agencies, forcing abortions across the border into Mexico and ushering in an era of Tijuana "abortion tourism" in the early 1950s. The movement south of the border ultimately compelled the California Supreme Court to rule its abortion statute "void for vagueness" in People v. Belous in 1969—four years before Roe v. Wade.

Gutierrez-Romine presents the first book focused on abortion on the West Coast and the border between the United States and Mexico and provides a new approach to studying how providers of illegal abortions and their female clients navigated this underground network.
 
About the Author
---
Alicia Gutierrez-Romine is an assistant professor of history at La Sierra University.
 
 
 
Praise For…
---
"Well-written and accessible to students, this book bears ample witness to the fact that although access to abortion (legal or illegal) can change drastically through time, the desperate need for the service does not."—A. H. Koblitz, Choice

"Gutierrez-Romine's important book on illegal abortion reminds us that those who have historically been labelled as 'criminals' cannot—and should not—be understood outside the context of the society and the circumstances in which they lived."—Erin N. Bush, assistant professor of U.S. and digital history at the University of North Georgia

"Alicia Gutierrez-Romine skillfully walks the reader through the complicated world of criminal abortion and, in the process, reveals how racialized logics, changing family values, and evolving legal frameworks created the post–Roe v. Wade world we inherited. This transnational account offers rich historical context while insightfully illuminating dozens of fascinating individual stories of women's choice—and lack thereof. From Back Alley to the Border is an urgent and eloquently argued contribution to contemporary debates about the value of life, family, and reproductive freedom."—Suzanna Krivulskaya, assistant professor of history at California State University, San Marcos