Not Quite a Genius (Hardcover)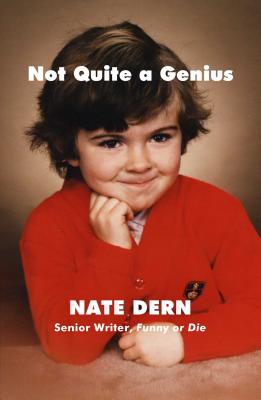 Description
---
From the senior writer at Funny or Die and former artistic director at the Upright Citizens Brigade Theater, a collection of absurdist, hilarious stories and essays on relationships, technology, and contemporary society.

This collection of essays and stories spans a wide variety of topics. There's the open letter to Charles Manson, the report of a brave archeologist's journey into a suburban man cave, and a long overdue missive from Leif Erikson to Christopher Columbus. Walt Whitman even teaches a spin class.

Nate Dern's razor-sharp eye examines modern society and technology, man buns, dating apps, and juicing crazes. Anyone who's ever scrunched their eyes at WiFi Terms & Conditions, listened to the reasons that led a vegetarian to give up meat, or looked on in horror at the evolving audacity of reality TV will appreciate Dern's wicked and funny take on modern life.
About the Author
---
Nate Dern grew up in the mountains of Evergreen, Colorado, where he enjoyed running on dirt trails and reading Kurt Vonnegut. Formerly the artistic director at the Upright Citizens Brigade Theater, Dern is the current news editor at Funny or Die. He lives in Brooklyn with his wife and their cat, Renly Baratheon. Not Quite a Genius is his first book.
Praise For…
---
"So no, Nate Dern may not be quite a genius. Still, he has written a book that is very smart, funny, thoughtful, and that might be just what the world needs."—The New York Times Book Review

"Nate Dern's brain is a VitaMix that chops up Kafka, the Internet, Republicans and thousands of other cultural ingredients and blends them into hilarious little treats. The results are not just funny—which they are—but they're even kind of profound. Highly recommended reading for those hungry for surprise."—A.J. Jacobs, New York Times bestselling author of The Know-it-All and Drop Dead Healthy

"Nate is one of those writers and performers that is constantly morphing and changing, always impressing and exceeding my expectations. His book is no different—you never know where it's going to go next, what genre, what format, what unique new take on an old idea. It's a breath of fresh air that you can eat up bit by bit or all at once like a huge hoagie. His book is, in a lot of ways, like a really wonderful sandwich."—Abbi Jacobson, co-creator and star of Comedy Central's Broad City