Lily and the Octopus (Hardcover)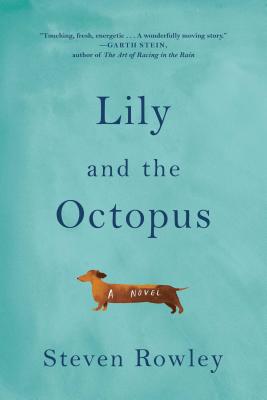 $25.99
Email or call for price.
Staff Reviews
---
Who hasn't fallen in love with their dog? Ted is in a crisis —Lily, his beloved dachshund, appears to have an octopus on her head. Part love story, part denial, LILY AND THE OCTOPUS will stay with you for a long time.
— Kathleen
June 2016 Indie Next List
---
"Lily and the Octopus is a profound book about all the important things in life -- love, how to let go, how important it is to live in the moment, and how one big love can lead to another. And Lily, dear Lily, is at the center -- a smart, movie-loving dog who would never pass up the chance at some good ice cream, tofurkey dinner, or beaming her unconditional love at her human companion, Ted. Told with humor, compassion, and a quirky sense of life's possibilities, Lily and the Octopus will hold you by the heart long after the final page is turned."
— Pam Cady, University Book Store, Seattle, WA
Description
---
"Lily and the Octopus is the dog book you must read this summer…a profound experience." —The Washington Post

Combining the emotional depth of The Art of Racing in the Rain with the magical spirit of The Life of Pi, Lily and the Octopus is an epic adventure of the heart.

When you sit down with Lily and the Octopus, you will be taken on an unforgettable ride.

The magic of this novel is in the read, and we don't want to spoil it by giving away too many details.

We can tell you that this is a story about that special someone: the one you trust, the one you can't live without.

For Ted Flask, that someone special is his aging companion Lily, who happens to be a dog.

Lily and the Octopus reminds us how it feels to love fiercely, how difficult it can be to let go, and how the fight for those we love is the greatest fight of all.

Remember the last book you told someone they had to read?

Lily and the Octopus is the next one.
About the Author
---
Steven Rowley has worked as a freelance writer, newspaper columnist, and screenwriter. Originally from Portland, Maine, he is a graduate of Emerson College. He currently resides in Los Angeles with his boyfriend and their dog. He is the author of Lily and the Octopus, The Editor, and The Guncle. Follow him on social media @MrStevenRowley.
Praise For…
---
NATIONAL BESTSELLER

"Lily and the Octopus is the dog book you must read this summer…. Reading this heart-wrenching but ultimately breathtaking novel was a very profound experience…. As Lily might say, 'YOU! MUST! READ! THIS! BOOK!'"
—The Washington Post

"Startlingly imaginative...'Lily and the Octopus' is a love story sure to assert its place in the canine lit pack...Be prepared for outright laughs and searing or silly moments of canine and human recognition. And grab a tissue: THERE! WILL! BE! EYE! RAIN!"
—Newsday

"Sensitive, hilarious, and emotionally rewarding.... The intimacy of pet ownership is sweetly suffused throughout this heartwarming autobiographical fiction... In generous helpings of bittersweet humanity, Rowley has written an immensely poignant and touchingly relatable tale that readers (particularly animal lovers) will love."
—Publishers Weekly

"Steven Rowley's touching, fresh, energetic novel isn't simply another 'boy and his dog' story. It is a profound exploration of grief—how we find ourselves lost, how we search for reason, how we sacrifice ourselves for our loved ones, all to avoid paying the octopus. But the octopus will be paid. And in settling that debt, in the magical, hopeful world of Lily and the Octopus, we will learn to live—and love—again. A wonderfully moving story."
—Garth Stein, bestselling author of The Art of Racing in the Rain

"An exceedingly authentic, keenly insightful, and heartbreakingly poignant tribute to the purity of love between a pet and its human."
—Booklist (starred review)

"A quirky and deeply affecting charmer of a novel, Lily and the Octopus is funny, wise, and utterly original in its exploration of what it means to love any mortal creature. This brave little dachshund will capture your heart, as will her prickly, tenderhearted, and irresistible owner. Don't miss their adventures together."
—Sara Gruen, bestselling author of Water for Elephants

"Singular, spectacular, and touchingly tentacular."
—Chris Cleave, bestselling author of Little Bee

"You will tear through this big-hearted, inventive novel. A fast and funny read that also happens to be a profound meditation on love and forgiveness, Lily and the Octopus is a delight."
—Christina Baker Kline, bestselling author of Orphan Train

"Intelligently written, finely observed, and surprisingly moving, this is a book you'll find hard to put down."
—Graeme Simsion, bestselling author of The Rosie Project

"A whimsical, touching tale"
—People

"My favorite book of the year: Steven Rowley's Lily and the Octopus. Hilarious, heartbreaking. You will absolutely cry and you will love it."
—Patrick Ness, bestselling author of The Rest of Us Just Live Here

"You don't need to be a dog lover to enjoy Steven Rowley's new book, 'Lily and the Octopus,' but if you've realized you like your dog more than most humans you encounter, this is one you won't want to miss."
—Newport Beach Independent

"In his funny, ardent and staunchly kooky way, Rowley expresses exactly what it's like to love a dog."
—Kirkus Reviews

"Rowley shares a moving, profound tale of grappling with loss."
—Real Simple

"It is a joyful book; it is also a sincerely written tragedy that invoked the purity of friendship between animal/human family members. It's laughter through tears. Rowley has a sense of humor with just enough morbid sensibility to appeal to a wide audience (even if animal best friend books aren't one's thing). Yet, he navigates the five stages of grief and loss while inspiring others to appreciate the lives we already have."
—Edge Media

"Portland's Steven Rowley strikes a chord in a moving book about heartache and friendship that is expected to be a big seller this summer."
—Portland Press Herald

"The connection between man and dog is loud and clear in this sweet novel…"
—Fort Worth Star-Telegram

"Author Steven Rowley uses humor and pop-culture references to tell a whimsical story of courage in the face of heartbreaking reality. Philosophical and introspective, "Lily and the Octopus" also looks at the transformative power of love, the importance of forgiveness and the beauty of really living, letting ourselves be seen instead of hiding in plain sight…I laughed, I sobbed, and at the end, I felt as if I'd caught up with a friend over coffee."
—The Free Lance-Star