We Begin Our Ascent (Paperback)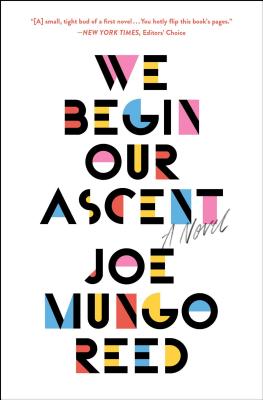 $16.00

Usually Ships in 1-5 Days
Staff Reviews
---
A stunning debut literary novel! A Tour de France cyclist and his geneticist wife share the obsessive ability to focus on a goal above all else. However, this focus leads them into a doping scheme that threatens to destroy their family.  
— Mike
Description
---
"Exceptional...fast and smart, funny and sad, this is an outstanding sports novel, and Joe Mungo Reed is an author to watch" (Kirkus Reviews, starred review).

Sol and Liz are a couple on the cusp. He's a professional cyclist in the Tour de France, a workhorse, but not yet a star. She's a geneticist on the brink of a major discovery, either that or a loss of funding. They've just welcomed their first child into the world, and their bright future lies just before them—if only they can reach out and grab it.

But as Liz's research slows, as Sol starts doping, their dreams grow murkier and the risks graver. Over the whirlwind course of the Tour, they enter the orbit of an extraordinary cast of conmen and aspirants, and the young family is brought ineluctably into the depths of an illegal drug smuggling operation. As Liz and Sol flounder to discern right from wrong, up from down, they are forced to decide: What is it we're striving for? And what is it worth?

"Joe Mungo Reed's unforgettable debut novel introduces us to a powerful new literary voice—as riveting as Don DeLillo's or Toni Morrison's" (Mary Karr, author of The Liars' Club). We Begin Our Ascent dances nimbly between tragic and comic, exploring the cost of ambition and the question of what gives our lives meaning. Reed melds the powerful themes of great marital dramas like Revolutionary Road with the humor, character, and heart of a George Saunders collection. Throughout, we're drawn inside the cycling world and treated to the brilliant literary sports-writing of modern classics like The Art of Fielding or End Zone.
About the Author
---
Joe Mungo Reed was born in London and raised in Gloucestershire, England. He has a degree in philosophy and politics from the University of Edinburgh, an MFA in creative writing from Syracuse University, and a PhD in creative writing from the University of Manchester. He is the author of the novel, We Begin Our Ascent, and his short stories have appeared in VQR, the London Evening Standard, and Corriere della Sera. He is currently living in Edinburgh, UK.
Praise For…
---
"Joe Mungo Reed has the sort of triple-barreled name that often comes attached to a certain kind of disheveled country music star…But scratch all that. Reed is young and English and…based on the aloof, punishing control he displays in his small, tight bud of a first novel, We Begin Our Ascent, he doesn't appear to have a disheveled bone in his body…It's one of the indices of Reed's talent that you hotly flip this book's pages even when there's not a lot going on, when it's just another hilly day on the tour…This novel derives its power from its limited focus and direct language. There are no adipose, word-glutted sentences. Reed is mostly content to give us strong silk thread, absent pearls…This novel's darkness, like heart disease, sneaks up on you…Like a racer, Reed carefully husbands his resources in this ruthless little sports novel. He enlists our mind in Sol's project as an athlete. He sees the madness in it as well."
—Dwight Garner, The New York Times

"A dazzling debut by an exciting and essential new talent: fast, harrowing, compelling, masterfully structured, genuinely moving. Reed is a true stylist and has, like James Salter before him, a gift for making a physical world that is very naturally imbued with rich metaphorical meaning. This novel is a heartening reminder of what happens when a keen intelligence is applied to a rarefied subject."
—George Saunders, author of Lincoln in the Bardo

"Joe Mungo Reed's unforgettable debut novel, We Begin Our Ascent, introduces us to a powerful new literary voice—as riveting as DeLillo's or Morrison's. On the surface, this is a book about doping in the Tour de France, but it's really about marriage and masculinity, competition and loyalty, and a sense of aspiration that blooms a person open and simultaneously shuts him tight as a clamshell. I read it cover to cover in a gulp."
—Mary Karr, author of The Art of Memoir and The Liars' Club

"A quick and enjoyable read, perfect for a summer weekend before the Tour. Reed's pacing is expert, slowly drawing you in and then driving you ever faster to the crux of the story and its quick, quiet denouement. And Reed's powers of perception and turns of phrase provide small delights throughout … Its main draw…is Reed's voice, which even in this debut novel is already strong and will continue to rise to the top. ... Reed also demonstrates piercing clarity about the sport's larger truths … [his] most potent observations mine the sport for broader meditations."
—Outside

"Exceptional … Reed's first novel lives squarely within Don DeLillo's sphere of influence … but Reed relies more heavily on plot than DeLillo, and the effect is remarkably successful: Alongside the ideas and the jokes, there is real suspense and human drama. … Fast and smart, funny and sad, this is an outstanding sports novel, and Reed is an author to watch."
—Kirkus Reviews, Starred Review

"Absorbing … Reed's writing has a hypnotic cadence. It hums along. … Reed has a real grasp of professional cycling … But this novel stands out in the story of Sol and his wife, Liz, how they each strive to maintain their individuality and relevance in marriage. … An engrossing novel."
—AM New York

"Joe Mungo Reed propels readers through the fascinating competitive sports world of the Tour de France … with a humorous, philosophical lens. The narrative is richly poetic and smartly suspenseful, with themes of sacrifice, loyalty, and morality."
—Christian Science Monitor¸ "10 Best Books of June"

"This novel will hook you…and haunt you. Embroidered with a sly humor—and insider details about the cycling world—the novel explores the sacrifices we're willing to make for our dreams, climbing steadily toward its stunning climax."
—AFAR Magazine, "10 Must-Read Books for Summer"

"As meditative as it is thrilling"
—Vanity Fair, "This Season's Ultimate Fiction List"

"Riveting … a beautifully written story of the consequences of the choices we make."
—Good Housekeeping, "The 25 Best New Books for Summer 2018"

"From page one, Joe Mungo Reed will make you a cycling convert with his ability to convey the often quiet beauty, struggle, and competition of the sport. While the stages of the Tour keep the wheels of the plot spinning, it is the portrait of two ambitious people trying to work through the shades of grey in the choices they make in the pursuit of their dreams and the unfolding of their marriage that will keep you turning the pages."
—The Daily Beast, "The Best Summer Beach Reads of 2018"

"We Begin Our Ascent is a brilliant debut novel, as affecting as it is smart. It gives us the particular life of competitive biking in all its fascinating complexity, delving into the visceral thrills of the race and the painful vagaries of the body in equal measure. Joe Mungo Reed writes dazzling sentences that veer from philosophy to absurd humor to childlike wonder. His mesmerizing and inventive engagement with his subject brings to mind another great sports novel, Don DeLillo's End Zone."
—Dana Spiotta, author of Innocents and Others

"Strong, lean, compact … With its taut, unsentimental prose, Reed's novel is both an exciting depiction of the prestigious bike race and an intimate portrait of a couple coming to terms with the cost of pursuing difficult goals and determining whether they're worth the price."
—Publishers Weekly

"A fascinating, darkly funny look at doping in professional cycling. … As the team's problems go from bad to worse to disastrous, Reed's wryly profound narrator uncovers insights into groupthink, dependency, and the dangers of mixing personal and professional lives."
—Booklist

"We Begin Our Ascent is a book for anyone who has ever wanted something a little bit too much. Joe Mungo Reed's complicated characters have moved a step beyond the right thing, and they linger at the precipice. This is a story for our time."
—Kyle Minor, author of Praying Drunk

"We Begin Our Ascent is a non-stop, heart-racing ride and a sneaky-smart tour of 21st-century labor relations. If you've ever worked hard enough to vomit just for a shiny sticker, this is the book for you."
—Malcolm Harris, author of Kids These Days: Human Capital and the Making of Millennials

"With cool, unerring prose, Joe Mungo Reed provides a richly detailed—and, at times, comically absurdist—exploration of the Tour de France that also functions as an extended metaphor for other long-term endeavors requiring stamina, ritual, and erasure of individuality for the greater good: marriage, parenting, work, life itself. Even if you don't know pelotons from pedals, We Begin Our Ascent makes its athletic microcosm vivid and exciting, and Reed is equally adept at dissecting the conflicts of the cyclist's taxed yet enlarged heart."
—Teddy Wayne, author of Loner

"I enjoyed this book so much! Reed gets deeply into the nature of work, its meaning, its frustrations, its rituals and intricacies. Reed's descriptions of racing are fabulous. … Every cyclist who likes to read should pick this book up for sure, but it has a lot to offer for anyone interested in work, family, competition, and ambition, and for anyone who wants an absorbing, thought-provoking, exciting read."
—Of Books and Bicycles