Leave No Trace: A Novel (Hardcover)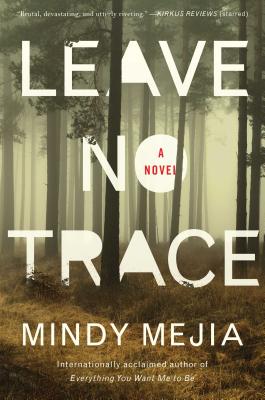 $26.00
Email or call for price.
Staff Reviews
---
Romeo & Juliet meets One Flew Over the Cuckoo's Nest! A love story set in a mental hospital - what more can I say?
— Samantha
Description
---
From the author of the "compelling" (Star Tribune, Minneapolis) and critically acclaimed Everything You Want Me to Be, a riveting and suspenseful thriller about the mysterious disappearance of a boy and his stunning return ten years later.

"A tense and gripping read that plumbs the depths of grief and longing...As thrilling as a whitewater rapid and as dark as the Minnesotan wilderness itself." —Amy Gentry, internationally bestselling author of Good as Gone

"Dark and atmospheric, with palpably vivid details and complex characters harboring plenty of secrets...the perfect combination of gorgeous prose and edge-of-your-seat storytelling." —Kimberly Belle, internationally bestselling author of The Marriage Lie

"This novel deserves the top-spot on your reading list!"—Hannah Mary McKinnon, author of The Neighbors

There is a place in Minnesota with hundreds of miles of glacial lakes and untouched forests called the Boundary Waters. Ten years ago a man and his son trekked into this wilderness and never returned.

Search teams found their campsite ravaged by what looked like a bear. They were presumed dead until a decade later...the son appeared. Discovered while ransacking an outfitter store, he was violent and uncommunicative and sent to a psychiatric facility. Maya Stark, the assistant language therapist, is charged with making a connection with their high-profile patient. No matter how she tries, however, he refuses to answer questions about his father or the last ten years of his life.

But Maya, who was abandoned by her own mother, has secrets, too. And as she's drawn closer to this enigmatic boy who is no longer a boy, she'll risk everything to reunite him with his father who has disappeared from the known world.
About the Author
---
Mindy Mejia is a CPA and a graduate of the Hamline University MFA program. Her debut novel, The Dragon Keeper, was published by Ashland Creek Press in 2012. She lives in the Twin Cities with her family, and is the author of Strike Me Down, Everything You Want Me to Be, and Leave No Trace.
Praise For…
---
"Mindy Mejia's latest is riveting."
— US Weekly

"Mejia's thrilling tale works both as an engaging mystery and a haunting meditation on grief, abandonment, and the lost places within ourselves. Brutal, devastating, and utterly riveting."
— Kirkus Reviews (starred review)

"The author uses Lake Superior's violent storms and the Boundary Waters' forbidding wilderness to intensify the story's emotional impact and heighten its exploration into the unpredictability of half-buried secrets."
— Booklist (starred review)

"Atmospheric . . . arresting."
— Publishers Weekly

"Mejia's writing crosses back and forth between exquisite literary descriptions and thrilleresque escapes and acts of violence."
— New York Journal of Books

"With intensely complicated characters, a fast-paced plot, lots of twists and turns, and an impeccable ending, LEAVE NO TRACE is the type of book one finishes in one sitting, preferably with rain pattering on the window and a cup of coffee in hand."
— Minnesota Monthly Magazine

"A boy missing for ten years emerges from the Minnesota wilderness in Mindy Mejia's spellbinding page-turner, LEAVE NO TRACE. Dark and atmospheric, with palpably vivid details and complex characters harboring plenty of secrets, Leave No Trace is the perfect combination of gorgeous prose and edge-of-your-seat storytelling. Clear your calendar, this is a book you'll want to swallow in one sitting. A stunner!"
— Kimberly Belle, internationally bestselling author of THE MARRIAGE LIE

"A tense and gripping read that plumbs the depths of grief and longing, LEAVE NO TRACE is as thrilling as a whitewater rapid and as dark as the Minnesotan wilderness itself. Mejia has a gift for creating characters who feel like family, and by the end of this book I would have followed her gutsy speech-therapist heroine Maya to the ends of the earth. Through twist after twist, this riveting story will have you asking yourself just how far you would go to find out exactly where you came from."
— Amy Gentry, internationally bestselling author of GOOD AS GONE

"I fell in love with Mindy Mejia's EVERYTHING YOU WANT ME TO BE, and with LEAVE NO TRACE she solidifies her position as one of my go-to authors. Smart, sophisticated and with characters so real, I kept expecting Maya and Lucas to stroll out of the forest. This novel deserves the top-spot on your reading list!"
— Hannah Mary McKinnon, author of THE NEIGHBORS

"Set against the backdrop of Minnesota's Boundary Waters, Mindy Mejia continues to create characters that are both vulnerable and strong as they navigate the wild terrain through seemingly impossible relationships. LEAVE NO TRACE is a thrill ride of a novel that captures the ferocity of both nature and humankind. The story of Maya and Lucas is one I won't soon forget."
— Karen Katchur, author of RIVER BODIES

"Mindy Mejia's LEAVE NO TRACE leaves the reader breathless: Daring characters, a suspenseful story you will tear through, and the ticking clock of an approaching dark, cold Minnesota winter. Riveting."
— Lori Rader-Day, award-winning author of THE BLACK HOUR

"Riveting and beautifully rendered, LEAVE NO TRACE hooks you from the first page and never lets go. A must-read thriller."
— Laura McHugh, award-winning and internationally bestselling author of THE WEIGHT OF BLOOD and ARROWOOD

"This psychological thriller is a triumph."
— Minneapolis Star-Tribune

"A thrilling, addictive read."
— Always with a Book

"If you couldn't tear yourself away from Everything You Want Me to Be, you definitely need to pick up this new book by Mindy Mejia."
— Bustle

"An exciting mystery that keeps you turning the pages to find out more. Must read!"
— Reviews by Jules

"Mindy Mejia kicks things up a notch, delivering another nail-biting page-turner that grabs you early and never lets go."
— The Real Book Spy

"Fascinating."
— Barnes & Noble.com, Best New Books

"Excellent . . . A strong sense of place infuses LEAVE NO TRACE, especially the expansive Boundary Waters--a place of wild beauty."
— The Associated Press

"Leave No Trace is a masterful gem with that rare combination of provocative and magical descriptions, compelling characters, and a breathtaking, heart-pounding plot. A powerful journey exploring the fluidity of sanity, the pain of depression, and the healing properties of the natural world. I haven't been this transported by a journey in the woods since reading Cheryl Strayed's Wild. This story will linger with readers long after the last page is turned."
— E. C. Diskin, author of bestselling BROKEN GRACE

"This psychological mystery explores the impact of a life lived in true isolation."
— Real Simple, "Best Books of 2018"

"Mejia wows again with wonderful words, great character development, and a beautiful homage to the Boundary Waters."
— City Pages

"Leave No Trace is an entertaining book that also alters one's world view just a bit in the end."
— BOLO Books, "Top Reads of 2018"

"An insightful look into mental health issues, a media frenzy and life in the wild."
— South Florida Sun Sentinel, "Best of 2018: Mysteries"

"he writing is so good, and the story so mysterious, that Mejia kept me turning pages for the answers to all the riddles. Readers who enjoyed books by Gillian Flynn or Tana French should enjoy this one. "
— The Internet Review of Books