The Sterkarm Handshake (Paperback)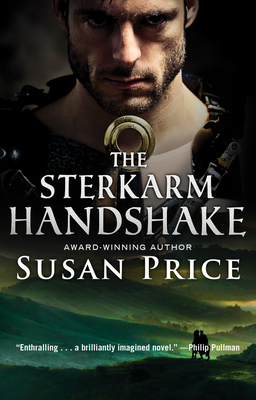 $33.99
Usually Ships in 1-5 Days
Other Books in Series
This is book number 1 in the Sterkarm series.
Description
---
A twenty-first-century corporation invades the domain of a warlike sixteenth-century Scottish clan in this "brilliantly imagined" time-travel adventure (Philip Pullman). The miraculous invention of a Time Tube has given Great Britain's mighty FUP corporation unprecedented power, granting it unlimited access to the rich natural resources of the past. Opening a portal into sixteenth-century Scotland, the company has sent representatives back five hundred years to deal with the Sterkarms, a lawless barbarian clan that has plundered both sides of the English-Scottish border for generations. Among the first of the company's representatives to arrive from the future, young anthropologist Andrea Mitchell finds herself strangely drawn to this primitive tribe of raiders and pillagers who, not surprisingly, view her as magical. As translator and liaison, she becomes enmeshed in the personal lives of these proud, savage folk, developing an especially strong emotional bond with Per, the handsome son of the ruthless Sterkarm chieftain, Toorkild. But the Sterkarms' welcome does not extend to the FUP corporate despoilers from the future--and soon a fragile agreement between the untamable Scots and the interloping "Elves" begins to crumble. Suddenly war looms on the horizon, and when treachery on both sides ignites a firestorm of violence, Andrea will have to choose where her loyalties truly lie: with her coldhearted employers or with the barbarous kinfolk of the man she has come to love. A winner of the Guardian Fiction Prize and a finalist for the Carnegie Medal, called "enthralling" by Philip Pullman, the author of the His Dark Materials novels, Susan Price's Sterkarm Handshake is a masterful blend of historical and science fiction critics have called "dazzling," "exciting," "memorable," "thought provoking," and "a thumping good page-turner."

About the Author
---
Susan Price is the author of the Sterkarm series. Born in Dudley, West Midlands, in England, she went on to write the Guardian Fiction Prize-winning The Sterkarm Handshake (1998) after visiting reiver country on the borders of Scotland. To help her imagine the Sterkarm's world, she drew on lifelong interests in history, folklore, and old ballads, as well as her hobbies of shooting with a longbow and traveling to the Scottish hills with her partner. Price continued the series with A Sterkarm Kiss (2004) and A Sterkarm Tryst (2017). Her other works include the novel The Ghost Drum, which won the prestigious Carnegie Medal. Price lives in the Black Country, in West Midlands, England.