The Flutter Collection (Paperback)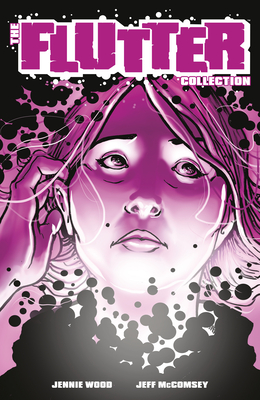 $24.99
Email or call for price.
Description
---
The entire Flutter saga in a single volume for the first time!

Fifteen-year-old Lily shape-shifts into a boy to get the girl, and chaos ensues when she pretends to be someone she's not. While coming to terms with who she is and what she has done, Lily learns that life as a boy is just as difficult, and that she can't just run away from her problems. With her loved ones in danger, she returns to St. Charles to live as Jesse and protect them. But knowing what she's capable of, can Lily be content as a popular high school varsity quarterback? Then, Lily gets stuck in a body while shape-shifting, but not just any body--her mother's. Forced to see the world through the eyes of her estranged mother, Lily must accept that she'll never life a "normal life" in order to fulfill her true destiny.
About the Author
---
Jennie Wood is the creator of the critically acclaimed, award-winning Flutter, a graphic novel series published by 215 Ink. Featured in the New York Times, Boston Globe, and on Law & Order: SVU, Flutter is one of the best LGBT graphic novels of 2013 and 2015, according to The Advocate. Flutter, Volume Two: Don't Let Me Die Nervous is a recent INDIEFAB Book of the Year finalist and a Virginia Library Association Diversity Honor Book.

Jennie is also the author of the YA novel, A Boy Like Me, which is a Next Generation Indie Book Awards finalist, an INDIEFAB Book of the Year finalist, and one of Foreword Reviews' 10 Best Indie YA novels for 2014. She is an ongoing contributor to the award-winning, New York Times best-selling FUBAR comic anthologies. Also a musician, Jennie lives in Boston and teaches at Grub Street, an independent writing center.