Dear Katie: Real advice on real life problems with expert tips (Paperback)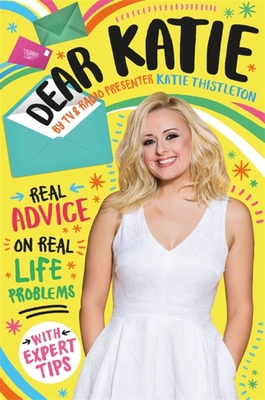 Description
---
'Katie's straightforward, warm wisdom will help young people everywhere!' - Matt Haig
Real answers to real problems! Advice on life's tough stuff from children's TV and radio presenter Katie Thistleton.
Growing up is hard. This book makes it a little bit easier.
Exploring the sometimes challenging issues everyone faces as part of growing up, Katie will answer questions from real kids and teens with real issues. From falling outs with friends to disagreements with family, trouble at school to concerns about mental or physical health, Katie will cover every topic with thoughtful and emotionally sensitive advice that will resonate with readers. With additional guidance from TV and radio doctor Radha Modgil, as well as psychotherapist Sally Angel, this book is full of advice and guidance to help kids through the difficult years of growing up.
"Beautifully fresh and honest. Covers everything from love to leggings." Rae Earl
"This book is as warm, lovely and wise as Katie is."Holly Smale
About the Author
---
Katie Thistleton is a children's TV and radio presenter who is passionate about raising mental health awareness through her role as a celebrity ambassador for the mental health charity Mind. Katie trained as a journalist after attaining a degree in English and Creative Writing and has worked for the BBC ever since, initially behind the camera, then moving in front of it. She lives in Manchester.
Praise For…
---
...a great book to have around as your child grows up...
—
Parents in Touch
...an eminently wise book. Thistleton explains that she has "struggled at times" with her own mental health and discovered "tips and tricks" that help her feel better about herself. This book is an attempt to make the reader feel better, too.
—
Emily Bearn
,
The Telegraph (online)
...an encouraging read and one I'd recommend to all young people.
—
Read by Jess (blog)
Full of smart, warm-hearted advice, Dear Katie offers an honest and thoughtful perspective on the issues that
can affect young people.
—
The Week Junior
From problems at school, relationships with friends, and being unhappy about your appearance to feeling sad or worried all the time, and questioning your sexuality, Thistleton takes her correspondents very seriously, but skilfully leavens her advice. Probably the most memorable (and valuable?) aspect of the book is Katie's own revelations of feelings and incidents from her teenage and younger years, which encourages readers to realise that they are not the only one to have had that worry.
—
Bridget Carrington
,
Armadillo magazine
Katie's advice seems wise and positive.
—
Midweek Herald