The Ender Eye Prophecy: An Unofficial Graphic Novel for Minecrafters, #3 (Paperback)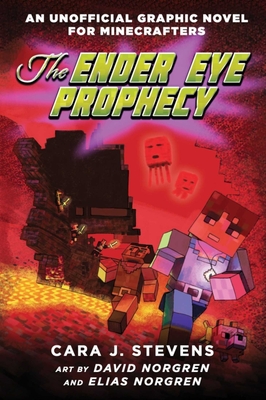 $11.99

Usually Ships in 1-5 Days
Description
---
For fans of Minecraft and graphic novels, an epic, full-color adventure. Phoenix is back—and on a quest to discover her true identity.

This full-color, graphic novel adventure, with over 750 color images, is created especially for readers who love the fight of good vs. evil, magical academies like Hogwarts in the Harry Potter saga, and games like Minecraft, Terraria, and Pokemon GO.

Peace has finally been restored in Xenos, but Phoenix longs to return home to her family of miners. Sheltered by the monks who guard the border world, she spends her days searching for clues about her real identity.

Just when Phoenix is losing hope that she'll ever discover the truth, two miner ambassadors arrive at the monastery, looking for a girl from their ancient legends who is said to wear an enchanted Ender eye necklace and is destined to save their village. Could that girl be Phoenix?

Determined to follow every clue that could set her free, Phoenix decides to join them on their quest to restore peace to their land. But along the way, zombie pirates attack, capturing Phoenix and taking her to the Nether. Now it's up to Xander to convince the villagers and miners to put aside their differences and come to Phoenix's rescue. The fate of their world depends on it.

Fans of Minecraft will be on the edge of their seats in this thrilling tale!
About the Author
---
Cara J. Stevens has a deep and abiding love for video games, science fiction and writing. She began her career designing interactive games and stories based on books and is happy to come full circle, creating stories based on video games. She has written nine other books for kids, including the novel Dragon School. When she's not writing or hanging out at the beach, she can be found playing pinball, WiiU, and classic Atari games. Cara lives in Old Greenwich, Connecticut with her husband, two children, and a loud, fluffy dog named Oliver.

David Norgren is an indie developer and animation enthusiast. Some of David's creations include Mine-imator, an easy-to-use moviemaker for the sandbox game Minecraft. Through the years, it has sparked the imaginations of thousands of young and old Minecraft fans and helped them enter the realm of animation.

Elias Norgren is a visual artist and animator with a YouTube channel with fifty thousand subscribers that focuses on animated Minecraft content.
Praise For…
---
"The highly pixilated art reflects the distinctive animation-style of the game and looks almost like screen grabs, which will only endear it more to young readers who love to play Minecraft. The book reads like the first volume of a continuing adventure and will leave kids wanting more."—Booklist on Quest for the Golden Apple