The Bone Broth Miracle Diet: Lose Weight, Feel Great, and Revitalize Your Health in Just 21 Days (Paperback)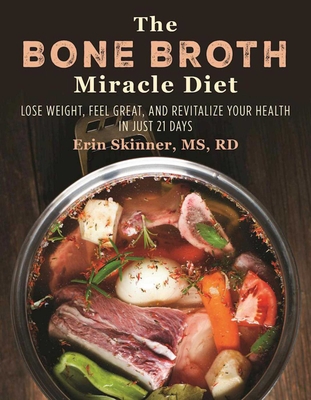 $17.99
Email or call for price.
Description
---
Restore and reboot your health with nature's miracle cure! The Bone Broth Miracle Diet takes the incredible health properties of this amazing natural elixir to a whole new level.
Nutrient-rich bone broth is a foundational ancient food that helps support the immune system, reduce inflammation, repair digestive health, and build joint strength. In an easy-to-follow twenty-one-day plan, incorporate delicious, healthy bone broth and ancestral foods into your diet to:
Help you lose weight
Boost energy
Heal your gut
Enrich your hair, skin, and nails!
Author Erin Skinner will teach you all you need to know about this remarkable, transformative diet. Complete with extensive background on bone broth's health and healing powers, this book breaks down how to source, prepare, and incorporate bone broth into your routine for even longer lasting benefits.
From delicious dinner pairings such as Super Charged Greens and Maple Roasted Salmon to sweet treats such as Chocolate-Coconut Balls and Grain-Free Waffles, these recipes make for an energizing, enriching weight-loss plan. In just twenty-one days, experience the magnificent benefits of
The Bone Broth Miracle Diet
that will help you look and feel spectacular.
About the Author
---
Erin Skinner, MS, RD, is a registered dietitian and owner of Real Nutrition RX, an integrative and functional nutrition practice. She revolutionizes her clients' wellness by using an ancestral, individualized approach. She is a military veteran who enjoys preparing delicious food, lifting the heaviest weights possible, and exploring the world with her husband and two boys. She is a California native who resides in Bury St Edmunds, England.