What to Expect Before You're Expecting: The Complete Guide to Getting Pregnant (Paperback)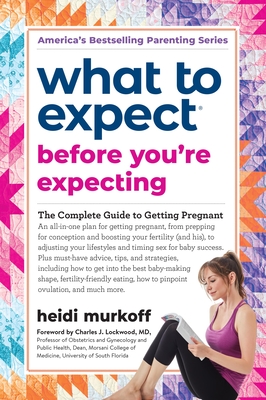 $15.99

Usually Ships in 1-5 Days
Description
---
What to expect. . . the first step. Answers to all your baby-making questions.
Are there ways to improve our chances of having a girl (or boy)?
Does stress affect fertility?
Should we be having sex every day? Every other day? Three times a day?
I'm 37. Does that mean I'll have a harder time getting pregnant?
How long should we keep trying to conceive before we get some help?
What fertility treatments are available—and how will we be able to pay for them?
Expecting to expect? Plan ahead. Here's everything you need to know to help prepare for the healthiest possible pregnancy and the healthiest possible baby. Filled with practical tips, empathetic advice, and savvy strategies, all designed to help you get that baby of your dreams on board faster. How to get your body into the best baby-making shape. Which foods feed fertility. Which lifestyle habits to quit and which to cultivate. All about baby-making sex, from timing to positions to logistics—and how to keep it sexy. Figuring out your fertility (and his). When to seek fertility help, and the latest on tests, treatments, and reproductive technology. Expecting to become a dad? This book has you covered, too. Plus, all about the family-building options for single women and same-sex couples.  
About the Author
---
Heidi Murkoff is the author of the world's bestselling What to Expect® series of pregnancy and parenting books, with over 43 million copies in print in 44 languages.  She is also the creator of WhatToExpect.com and the WhatToExpect app, a community of 20 million parents, and the face of the app's week-by-week pregnancy and first year videos. Using the power of the WTE platforms, Heidi works closely with the CDC, HHS, AAP and other public health organizations to share vital messages about maternal and infant health and safety. Her passionate commitment to the wellbeing of all moms and babies led her to found the What to Expect Project (WTEP), a nonprofit organization dedicated to ensuring that every mom receives the empowering information and nurturing support she needs to deliver a healthy pregnancy, safe delivery, and healthy future to herself and the baby she loves. Along with the WTEP, Heidi advocates actively in Congress for legislation and policies supporting expecting and new moms and families, including military families. Since 2013, she has hosted close to 300 Special Delivery baby showers for tens of thousands of military moms and dads serving far from family and friends at bases around the world. In 2022, she and her husband Erik received the Elizabeth and Zachary Fisher Distinguished Civilian Humanitarian Award for their support of military families.

Visit Heidi on Facebook, Twitter and Instagram @HeidiMurkoff and @WhattoExpect.