Rayne & Delilah's Midnite Matinee (Hardcover)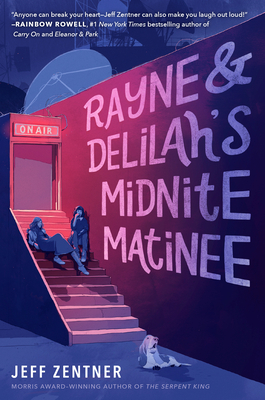 $17.99
Email or call for price.
Staff Reviews
---
I am already a fan of Jeff Zentner, but this one did not disappoint. RAYNE AND DELILAH'S MIDNITE MATINEE had me laughing and crying and rooting for Delia and Josie (a.k.a. Rayne and Delilah) as they launch themselves, warts and all, into the world.
— Sarah
Spring 2019 Kids Indie Next List
---
"This is a story of true friendship, of joy and laughter, of loss and pain, of heartbreak and love, and in the end it's a story of growth and hope. Josie and Delia each hold half of my heart. I saw different parts of myself in them in deep ways; their words felt like my own stolen from a place where I feared to speak them aloud. This book left me laughing with tears streaming down my face and warmth in my heart!"
— Meghan Vanderlee, Schuler Books (Grand Rapids), Grand Rapids, MI
Description
---
"Anyone can break your heart--Jeff Zentner can also make you laugh out loud!" --RAINBOW ROWELL, #1 New York Times bestselling author of Carry On and Eleanor & Park

From the award winning author of The Serpent King comes a contemporary novel about two best friends who must make tough decisions about their futures--and the TV show they host--in their senior year of high school. And don't miss the author's highly anticipated new book, In the Wild Light!

Every Friday night, best friends Delia and Josie become Rayne Ravenscroft and Delilah Darkwood, hosts of the campy creature feature show Midnite Matinee on the local cable station TV Six.

But with the end of senior year quickly approaching, the girls face tough decisions about their futures. Josie has been dreading graduation, as she tries to decide whether to leave for a big university and chase her dream career in mainstream TV. And Lawson, one of the show's guest performers, a talented MMA fighter with weaknesses for pancakes, fantasy novels, and Josie, is making her tough decision even harder.

Scary movies are the last connection Delia has to her dad, who abandoned the family years ago. If Midnite Matinee becomes a hit, maybe he'll see it and want to be a part of her life again. And maybe Josie will stay with the show instead of leaving her behind, too.

As the tug-of-war between growing up and growing apart tests the bonds of their friendship, Josie and Delia start to realize that an uncertain future can be both monstrous...and momentous.

"I laughed, cried, and fell over-the-moon in love with Rayne & Delilah's Midnite Matinee." --JENNIFER NIVEN, New York Times bestselling author of All the Bright Places and Holding Up the Universe
About the Author
---
Jeff Zentner is the author of The Serpent King, a New York Times Notable Book, winner of the William C. Morris Award, and recipient of many other accolades; and Goodbye Days, named an ALA-YALSA Top Ten Best Fiction for Young Adults title. Jeff was a Publishers Weekly Flying Start and an Indies Introduce pick. Before becoming a writer, he was a musician who recorded with Iggy Pop, Nick Cave, and Debbie Harry. Rayne & Delilah's Midnite Matinee is his ode to best friends who make things together. He lives in Nashville with his wife and son. You can follow him on Facebook, Twitter, and Instagram, or visit him at jeffzentnerbooks.com.
Praise For…
---
One of Buzzfeed's Best YA Books of the Year
One of Paste Magazine's 10 Most Anticipated Young Adult Books of the Year

"A testament to the power of friendship and big dreams, Rayne & Delilah's Midnite Matinee had me laughing aloud on one page and sobbing on the next. A resounding triumph." --NIC STONE, New York Times bestselling author of Dear Martin

"Rayne & Delilah's Midnite Matinee starts as comedy about the wildly imperfect, and ends as poetry about the ever-hoping heart. I don't know how you write that book. Fortunately, Jeff Zentner does." --JESSE ANDREWS, New York Times bestselling author of Me and Earl and the Dying Girl

"As in his award-winning The Serpent King (2016), Zentner packs a poignantly satisfying blend of wit and pathos, with lovable and unpredictable characters. . . . Readers looking for an unforgettable slice of small-town angst will love this one." --Starred Review, Booklist

"Zentner's quick-witted, charming characters tackle real-life issues with snappy dialogue and engaging levity." --Starred Review, Publishers Weekly

"Zentner nails his teen characters, their longings, and their motivations, and the first chapters are downright hilarious." --Kirkus Reviews

"[A] heartfelt story of a friendship in transition, fueled by funny, rapid-fire dialogue." --Horn Book

"A quirky fun, read that will give teens all the feels." --School Library Journal

"[W]ill no doubt offer hope to readers who want to stay friends when post–high school plans take them in very different directions." -- The Bulletin of the Center for Children's Books

"As funny as it is bittersweet." --Shelf Awareness

PRAISE FOR Goodbye Days:

"Jeff Zentner, you perfectly fill the John-Green-sized hole in our heart."--Justine Magazine

"Evocative, heartbreaking, and beautifully written." --Buzzfeed

"Zentner does an excellent job in creating empathetic characters, especially his protagonist Carver, a budding writer whose first-person account of his plight is artful evidence of his talent." Starred Review, Booklist

"Racial tensions, spoiled reputations, and broken homes all play roles in an often raw meditation on grief and the futility of entertaining what-ifs when faced with awful, irreversible events." --Starred Review, Publishers Weekly

"[E]xquisite and tragic." --Starred Review, Shelf Awareness

"An organic, frequently raw narrative." --Horn Book

PRAISE FOR The Serpent King:

A William C. Morris Award Winner
A New York Times Notable Book
A Kirkus Reviews Best Book of the Year
A Publishers Weekly Best Book of the Year
A BuzzFeed Best YA Book of the Year
An Indie Next List Top Ten Selection
A Paste Magazine and popcrush.com Most Anticipated YA Book of the Year
A Publishers Weekly Spring 2016 Flying Start

"Will fill the infinite space that was left in your chest after you finished The Perks of Being a Wallflower." --BookRiot

"As funny and witty as it is utterly heartbreaking." --Paste Magazine

"A love letter to the South from a man who really understands it." --Mashable

"Zentner's great achievement — particularly impressive for a first novel — is to make us believe three such different people could be friends. He also manages to blend a dank, oppressive, Flannery O'Connor-esque sense of place with humor and optimism .... I adored all three of these characters and the way they talked to and loved one another." --New York Times Book Review