The Sandman: A novel (Joona Linna #4) (Hardcover)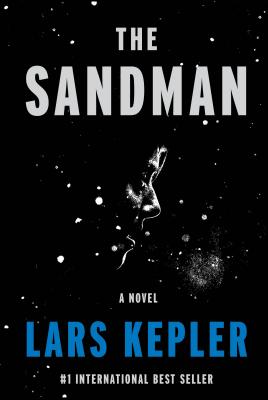 Other Books in Series
This is book number 4 in the Joona Linna series.
Staff Reviews
---
Made up of over 180 2-page chapters, this gritty crime novel features a diabolical serial killer and two brilliant detectives. If you want to get lost in a very tense page-turner, this is the one for you! Great Swedish noir.
— Suzie
Description
---
"With its tight, staccato chapters and cast of dangerous wraiths lurking everywhere, The Sandman is a nonstop fright." —Janet Maslin, The New York Times

The #1 internationally best-selling thriller from the author of The Hypnotist tells the chilling story of a manipulative serial killer and the two brilliant police agents who must try to beat him at his own game.

Late one night, outside Stockholm, Mikael Kohler-Frost is found wandering. Thirteen years earlier, he went missing along with his younger sister. They were long thought to have been victims of Sweden's most notorious serial killer, Jurek Walter, now serving a life sentence in a maximum security psychiatric hospital. Now Mikael tells the police that his sister is still alive and being held by someone he knows only as the Sandman. Years ago, Detective Inspector Joona Linna made an excruciating personal sacrifice to ensure Jurek's capture. He is keenly aware of what this killer is capable of, and now he is certain that Jurek has an accomplice. He knows that any chance of rescuing Mikael's sister depends on getting Jurek to talk, and that the only agent capable of this is Inspector Saga Bauer, a twenty-seven-year-old prodigy. She will have to go under deep cover in the psychiatric ward where Jurek is imprisoned, and she will have to find a way to get to the psychopath before it's too late--and before he gets inside her head.
About the Author
---
LARS KEPLER is the pseudonym of the critically acclaimed husband and wife team Alexandra Coelho Ahndoril and Alexander Ahndoril. Their internationally best-selling Joona Linna series has sold more than thirteen million copies in forty languages. The Ahndorils were both established writers before they adopted the pen name Lars Kepler, and have each published several acclaimed novels. They live in Stockholm, Sweden. Translated by Neil Smith.
Praise For…
---
Praise for The Sandman:
 
"The Sandman sends us off to dreamland with a nightmare that can make us happy." —Ken Tucker, The New York Times Book Review

"If Jurek Walter reminds you of Hannibal Lecter, with his ability to impel people to act against their own impulse, you'll be forgiven. . . . As with Jurek Walter's powers of persuasion, I felt impelled by Lars Kepler to finish The Sandman. The characters got into my head and I couldn't rest until the mystery was revealed." —Jonathan Elderfield, Associated Press 

"Kepler — actually the husband-and-wife team of Alexandra and Alexander Ahndoril — is really good at this stuff. The chapters are short, the characters deftly drawn, and the action churns along." –Richard Lipez, The Washington Post

"[A] marvel: utterly unnerving, bordering on horror, dripping with suspense throughout." –Entertainment Weekly

"[A] thrilling crime novel that will keep you awake until you read the final page." —Paste Magazine

"This is a book that will keep you up all night, unable to turn off the light, because the pages almost literally fly beneath your fingers. . . . The Sandman is an excellent crime novel. Alexandra Coehlo Ahndoril and Alexander Ahndoril are a terrific writing team that deserve every accolade they receive. You won't be able to resist the urge to read all six Joona Linna novels, and you'll fervently wish there were more." —New York Journal of Books 

"Thriller fans will find it hard to escape The Sandman's spell, for the suspense is unrelenting and the bite-size chapters end on cliffhangers. But unlike the villain, who makes victims go to sleep, his namesake novel will keep readers up all night." —Elyse Dinh-McCrillis, Shelf Awareness

"I had been hearing about Lars Kepler's Joona Linna series of crime novels for years and have finally gotten around to reading them. I had really been missing out. . . . Do you enjoy getting scared out of your wits? Then I suggest you read The Sandman." —Vick Mickunas, Dayton Daily News

"Sensational ... like meeting Hannibal Lecter all over again - twice." —Lee Child

"Kepler doesn't pull any punches, and his care in creating characters will make readers deeply invested in their fates." —Publishers Weekly, starred review
 
"If any Scandinavian crime series is poised to top the characterization and gripping action of Stieg Larsson's Millennium series, it's this one. Kepler has crafted a phenomenal hero in Linna, who wields intuition, strategic genius, and refreshing vulnerability against a foe as compelling and calculating as Hannibal Lecter." —Booklist, starred review
 
"More dark psychological thriller than police procedural, this shiver-inducing read will have you turning pages until the cliff-hanger ending." —Library Journal