Holes in the Sky (Hardcover)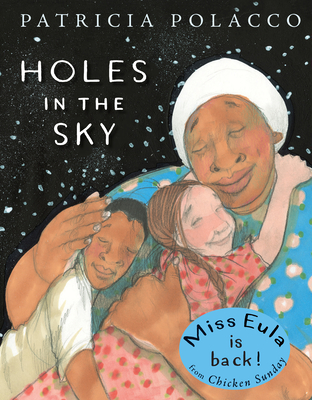 $19.99

Usually Ships in 1-5 Days
Staff Reviews
---
This book is a celebration of diverse community, the power of multi-generational connections, and friendship across racial lines. It also recognizes that loss is real but also surmountable. What a beautiful story!
— Joci Kelleher
Description
---
Miss Eula is back! In this heartwarming companion to Chicken Sunday, young Trisha is devastated when her grandmother passes away, but finds joy in bonds with a new friend, her new California neighborhood—and the invincible Miss Eula.

There will never be anyone like her grandmother, Patricia Polacco thinks, when her grandmother passes away. But when she and her family move to California—in the middle of a drought—she meets a new friend, the irrepressible Stewart, and his amazing grandmother, Miss Eula, who not only takes Trisha under her wing, but, with Trisha and Stewart, steps up to lead their entire extraordinarily diverse neighborhood to help a hurting neighbor—and her once lush garden—survive the drought.
     Trisha's grandmother's old saying about the stars being Holes in the Sky turns out to be Miss Eula's, too, convincing Trisha that she has miraculously discovered another unforgettable grandmother.
About the Author
---
PATRICIA POLACCO is a New York Times bestselling author and illustrator with over 115 beloved and award-winning books to her credit, including The Keeping Quilt, Pink and Say, The Blessing Cup, Chicken Sunday, and Thank You, Mr. Falker. She resides in Michigan. Learn more about her work at patriciapolacco.com.
Praise For…
---
"Polacco's signature illustration style in sketched pencil and color emphasizes the relationships among people, just as the text celebrates the power of connection and the miracle of love in unexpected places. Sweet and comforting."—Kirkus Reviews

"In this autobiographical story, Polacco explores complex responses to grief; the beauty of community, diversity, and goodwill shines through her unmistakable marker-and-pencil-line illustrations."—Publishers Weekly

"Polacco plumbs the seemingly endless nooks and crannies of her childhood to come up with another picture book to inspire warm feelings of community and caring. . . . Polacco's emotion-laden pencil and watercolor illustrations bleed off the pages, just as her own warmth and affection for humanity overflow in the text. . . . [Readers will] welcome the notion that stars are the holes in the sky through which departed love ones keep watch over us . . . message of understanding and mutual affection."—School Library Journal