The Skylarks' War (Paperback)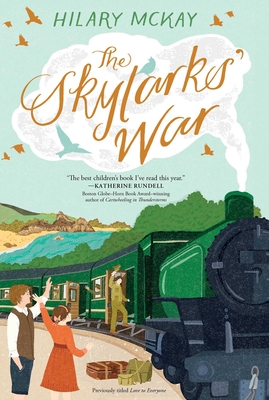 $8.99

Usually Ships in 1-5 Days
Description
---
A Boston Globe Best Book of 2018
A Horn Book Best Book of 2018

"Vivid, hilarious, and heartbreaking." —Elizabeth Wein, New York Times bestselling author of Code Name Verity

"The best children's book I've read this year." —Katherine Rundell, Boston Globe–Horn Book Award–winning author of Cartwheeling in Thunderstorms

"A near-miraculous balance of light and joyous touch with sometimes serious and even heartbreaking material." —BCCB (starred review)

From award-winning author Hilary McKay comes a "wholly satisfying" (Booklist, starred review) story full of wit, heartbreak, and hope as a girl fights for her independence during World War I.

Clarry Penrose finds the good in everyone. Even in her father, who isn't fond of children, and especially girls. He doesn't worry about her education, because he knows she won't need it. It's the early twentieth century, and the only thing girls are expected to do is behave.

But Clarry longs for a life of her own. She wants to dive off cliffs and go swimming with her brother Peter and cousin Rupert. And more than anything, she wants an education. She helps Peter with his homework all the time, so why can't she manage it by herself? When war breaks out, Clarry is shocked to find that Rupert has enlisted. Then he is declared missing, and Clarry is devastated. Now she must take a momentous step into the wide world—for if she misses this chance, she may never make it.

This is an inspirational, funny, and heartwarming story about a girl who dares to open doors that the world would rather keep closed.
About the Author
---
Hilary McKay is the award-winning author of The Time of Green Magic (which received five starred reviews), The Skylarks' War (which was a Boston Globe Best Book and received three starred reviews), Binny Bewitched (which was a Kirkus Reviews Best Book of the Year and received two starred reviews), Binny in Secret (which received three starred reviews), Binny for Short (which received four starred reviews), and six novels about the Casson family: Saffy's Angel, Indigo's Star, Permanent Rose, Caddy Ever After, Forever Rose, and Caddy's World. She is also the author of Wishing for Tomorrow, the sequel to Frances Hodgson Burnett's A Little Princess, and The Swallows' Flight. Hilary lives with her family in Derbyshire, England. Visit her at HilaryMcKay.co.uk.
Praise For…
---
"This book is agony and ecstasy, and never have I read such a human and accessible account of World War I. Vivid, hilarious, and heartbreaking, Hilary McKay's radiant characters touch my heart like real people, friends and loved ones I know well. Possibly the finest writer of our time."
— Elizabeth Wein, New York Times-bestelling author of Code Name Verity and The Pearl Thief

"I thoroughly loved Love to Everyone. The story is at once intimate and sweeping, with Clarry the shining heart of it all."
— Kimberly Brubaker Bradley, #1 New York Times-bestselling author of The War That Saved My Life

"I LOVED Love to Everyone. Hilary McKay is a genius. It's the best children's book I've read this year."
— Katherine Rundell, Boston Globe-Horn Book Award-winning author of Cartwheeling in Thunderstorms

* "McKay manages a near-miraculous balance of light and joyous touch with sometimes serious and even heartbreaking material."
— BCCB, STARRED REVIEW

* "Though love, pain, and loss shape this emotionally resonant story of coming of age in turbulent times, the ending is quietly hopeful and wholly satisfying."
— Booklist, STARRED REVIEW

"Hilary McKay is a genius. This beautiful book is so many things simultaneously: complex and subtle, beautiful and raw, timely and timeless. I never wanted it to end."
— Bonnie-Sue Hitchcock, William A. Morris Award finalist author of The Smell of Other People's Houses

"I laughed, I cried and I wanted all the characters to be my best friend." —Natasha Farrant, author of The Children of Castle Rock and Lydia: The Wild Girl of Pride and Prejudice

"Hilary McKay's novel is about love as much as war: the effect on children of being deprived of it and the beneficial results on adults of its persistence. McKay is incapable of writing an uninteresting character or a dull scene... I loved it."
— Mary Hoffman, New York Times-bestselling author of Stravaganza and Amazing Grace