Ghosts of the Shadow Market (Paperback)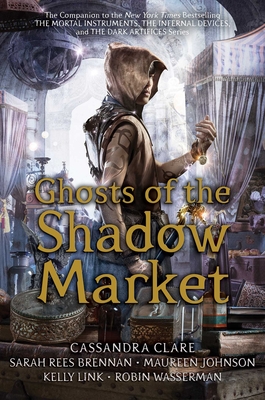 $14.99

Usually Ships in 1-5 Days
Description
---
A #1 New York Times bestseller!

From #1 New York Times and USA TODAY bestseller Cassandra Clare comes an exciting short story collection that follows Jem Carstairs as he travels through the many Shadow Markets around the world. Ghosts of the Shadow Market is set in the world of the Shadowhunters.

The Shadow Market is a meeting point for faeries, werewolves, warlocks, and vampires. There, the Downworlders buy and sell magical objects, make dark bargains, and whisper secrets they do not want the Shadowhunters to know. Through two centuries, however, there has been a frequent visitor to the Shadow Market from the very heart of the Shadowhunters' world. Jem Carstairs is searching through the Shadow Market, in many different cities over long years, for a relic from his past.

Follow Jem and see—against the backdrop of the Shadow Market's dark dealings and spectacle—Anna Lightwood's doomed romance, Matthew Fairchild's great sin, and Tessa Gray as she is plunged into a world war. Valentine Morgenstern buys a soul at the Market and a young Jace Wayland's soul finds safe harbor. In the Market is hidden a lost heir and a beloved ghost, and no one can save you once you have traded away your heart. Not even Jem.
About the Author
---
Cassandra Clare is the author of the #1 New York Times, USA TODAY, Wall Street Journal, and Publishers Weekly bestselling Shadowhunter Chronicles. She is also the coauthor of the bestselling fantasy series Magisterium with Holly Black. The Shadowhunter Chronicles have been adapted as both a major motion picture and a television series. Her books have more than fifty million copies in print worldwide and have been translated into more than thirty-five languages. Cassandra lives in western Massachusetts with her husband and three fearsome cats. Visit her at CassandraClare.com. Learn more about the world of the Shadowhunters at Shadowhunters.com.

Sarah Rees Brennan is the New York Times bestselling author of the critically acclaimed Unspoken and The Demon's Lexicon trilogy. Her most recent book, In Other Lands, was a Hugo Award finalist. She lives in Ireland. Visit her at SarahReesBrennan.com.

Maureen Johnson is the New York Times bestselling author of over a dozen YA novels, including 13 Little Blue Envelopes, The Name of the Star, Suite Scarlett, and Truly Devious. Visit her at MaureenJohnsonBooks.com, MaureenJohnsonBooks on Tumblr, or @MaureenJohnson on Twitter.

Kelly Link is the author of four collections, including Pretty Monsters and the Pulitzer finalist Get in Trouble. She is the cofounder of Small Beer Press and lives with her husband and daughter in Northampton, Massachusetts. Visit her at KellyLink.net.

Robin Wasserman is the author of Girls on Fire, an NPR and BuzzFeed Best Book of the Year. She is a graduate of Harvard College with a Master's in the history of science. She lives in Los Angeles, where she writes for television.