Seeing Ghosts: A Memoir (Hardcover)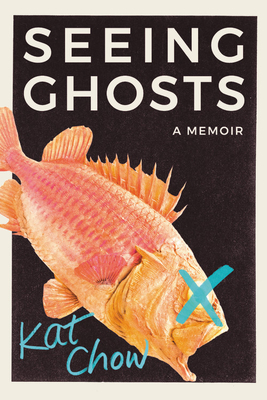 $28.00

Usually Ships in 1-5 Days
Staff Reviews
---
After losing her mother at a young age, Kat Chow recounts growing up with an eccentric father, coming to terms with her mother's death, and being the child of immigrants.  
Description
---
This "graceful, captivating" (New York Times Book Review) story from a singular new talent paints a portrait of grief and the search for meaning as told through the prism of three generations of her Chinese American family—perfect for readers of Helen Macdonald and Elizabeth Alexander.

Kat Chow has always been unusually fixated on death. She worried constantly about her parents dying---especially her mother. A vivacious and mischievous woman, Kat's mother made a morbid joke that would haunt her for years to come: when she died, she'd like to be stuffed and displayed in Kat's future apartment in order to always watch over her. 

After her mother dies unexpectedly from cancer, Kat, her sisters, and their father are plunged into a debilitating, lonely grief. With a distinct voice that is wry and heartfelt, Kat weaves together a story of the fallout of grief that follows her extended family as they emigrate from China and Hong Kong to Cuba and America. Seeing Ghosts asks what it means to reclaim and tell your family's story: Is writing an exorcism or is it its own form of preservation? The result is an extraordinary new contribution to the literature of the American family, and a provocative and transformative meditation on who we become facing loss.

AN NPR BOOKS WE LOVE 2021 PICK * A TIME MUST-READ BOOK OF 2021 PICK * A NEW YORK TIMESNOTABLE BOOK OF 2021 * A HARPER'S BAZAAR BOOK YOU NEED TO READ IN 2021 * A TOWN & COUNTRYBEST BOOK OF 2021 PICK * A FORTUNE BEST BOOK OF 2021 PICK 
About the Author
---
Kat Chow is a writer and a journalist. She was previously a reporter at NPR, where she was a founding member of the Code Switch team. Her work has appeared in The New York Times Magazine, The Atlantic, and on Radiolab, among others. She's one of Pop Culture Happy Hour's fourth chairs. She's received a residency fellowship from the Millay Colony and was an inaugural recipient of the Yi Dae Up fellowship at the Jack Jones Literary Arts Retreat. 
Praise For…
---
ONE OF AMAZON'S BEST BOOKS OF 2021
ONE OF BARNES AND NOBLES' BEST BOOKS OF 2021
ONE OF BUSINESS INSIDER'S BEST MEMOIRS OF 2021
ONE OF BOOKRIOT'S BEST BOOKS TO GIFT FOR 2021
ONE OF ENTROPY'S BEST NONFICTION BOOKS OF 2020-2021


"Kat Chow's memoir, Seeing Ghosts, is a memorial to her mother delivered in a graceful, captivating voice. . .  Chow exercises such control that her tone manages somehow to be both brooding and affectionately humorous."—New York Times Book Review

"The book reads like a memory album. . . In baring her memories and her soul, Chow reminds us why this task is so important, and how it lets us heal."—USA Today

"Chow does distill what it feels like to grieve well beyond the initial shock of death in Seeing Ghosts. . . In writing about her mother's life and death, and what came before and after, Chow excavates her history and the ways that distance and longing refract across generations."—NPR Book Review

"[An] affecting (and quite funny) meditation on long-term mourning."—New York Magazine

"Journalist Chow writes longingly about her mother, who died from cancer, in this intimate debut about a life shaped by loss. . . While deep emotion drives her writing, Chow generally avoids oversentimentality and buoys what could otherwise be an overwhelmingly despondent narrative with bursts of joy and irreverence. . . The result is a moving depiction of grief at its most mundane and spectacular."—Publishers Weekly

"Readers familiar with Chow's reporting on NPR will not be surprised at her storytelling skills, which shine even more brightly here. This haunting, deeply moving, and beautifully written chronicle of the immense grief that once tore Chow's family apart and now binds them will resonate with every reader."—Booklist, starred review

"By uniting family memories, elements of Chinese culture, and an intimate perspective, Chow wraps tragedy and history into an affecting memorial.  A powerful remembrance of a family unmoored by the loss of its matriarch."—Kirkus Reviews

"Kat Chow dares to explore the lingering dynamics of her family's shared grief in her breathtaking debut memoir. . . It's a bittersweet meditation on how losing the ones we love indelibly shapes the futures of the living, and how we ultimately find healing in the strength of family."—TIME Magazine

"[A] vivid portrait of [Chow's] loving and flawed Chinese American family. The book is a tribute to Chow's spirited mother, but it's also a revealing portrait of three daughters trying to negotiate a complicated relationship with their family."—Library Journal

"Like the experience of grief itself, Seeing Ghosts is meditative, fragmentary, sometimes funny and occasionally hopeful."
 —BookPage

"How do we know our mothers? This seemed to me to be what this powerful memoir brought into focus for me. From the narrow window we have of them from childhood, expanding outward as we grow older, and then after their death, when they cannot keep their secrets from us, including that also, the result is a prismatic vision of the mother in these pages, of Chow's mother, but all our mothers. This is a book that asks us to consider if we allow our mothers to be human--and ourselves, too. A daring, loving, searing debut."—Alexander Chee, bestselling author of How to Write an Autobiographical Novel

"Seeing Ghosts is truly beautiful. A balm. There is such a deep comfort in Kat Chow's writing, in her remembrance of small things. It is a love song to loss, to family, to the power of writing things down and remembering."—Jacqueline Woodson, award-winning author of Red at the Bone

"With love and sorrow, Kat Chow's Seeing Ghosts takes up the daunting, difficult, essential task that falls to the children of immigrants—that of making visible the family histories that recede from us like a hazy shoreline, of pulling a lifeline out of the silence that compounds with acquiescence and loss and time. Uncertainty remains central and loss ineluctable, despite the doggedness and perspicacity of Chow's efforts to uncover and recover; this might be the most human of all the truths in this beautiful, moving memoir."
 —Jia Tolentino, New York Times bestselling author of Trick Mirror

"I read Seeing Ghosts with a great sense of luck and relief that Kat Chow's book shares the ground with the best memoirs: that they are the archeologists of memory, unearthing places we have wavered in going. Like all books that haunt us long after reading, Seeing Ghosts is a courageous act of excavation and salvage. It is also a feat of rescue and healing."—Ocean Vuong, New York Times bestselling author of On Earth We're Briefly Gorgeous

"In Seeing Ghosts, Kat Chow tells a story that is at once intimate and generous in its welcome, sifting through the legacy of a formative and profound loss in order to better understand her late mother, her family, and herself. This gorgeous, thoughtful memoir has much to offer, including the hard-won truth that sometimes, moving forward into an uncertain future requires us to revisit, remember, and attempt to unravel the traumas of our past."—Nicole Chung, author of All You Can Ever Know: A Memoir

"Seeing Ghosts is a reminder that love, loss, and hope glide hand in hand - in this book about family and its bonds, Kat Chow transforms the question of what it means to lose and still have love for the mysteries of this world. Chow's writing is by turns resonant, hilarious, and meticulously researched, making dreams and feelings that are otherwise invisible potent and wholly tangible. Chow's scenes paint histories and emotions with the densest of feeling, as Seeing Ghosts guides us through how a life can be lived, who is left behind, and how we find ways to come together despite this. Kat Chow illustrates what it means when we're bound to one another, excavating what we owe each other alongside what we owe ourselves. A delight and a miracle - the world is fuller, stranger, and brighter by this book's presence."
 —Bryan Washington, author of Memorial

"Chow's meditation on loss shows how memories that haunt can also sustain."—People

"Kat Chow's memoir tackles a vast topic—grief—and brings it into focus with a gripping, harrowing personal story. . . Her book is a touching meditation on what it means to know and remember a loved one and how we can continue living without losing sight of the people who have shaped our lives, even after they're gone."—Town & Country

"[T]his book is more about the complexity of what holds a family together than the sadness of loss. . . As after sitting down and having a long talk with a good friend, you'll come away buoyed by the solidarity of realizing that we all struggle and the comfort that comes with understanding each other's plights."—Good Housekeeping

"[B]rilliant. . . [I]n true journalistic form, Chow expands outward, exploring the broader cultural and political histories that inform her family's experience of place, love, and grief."—Shondaland

"Seeing Ghosts is an aching read that will settle in your bones and wrap itself around your heart."—Bitch Media

"[Seeing Ghosts] is a memoir that is not only personal and heartbreakingly honest, but that digs into the very nature of grief and what it means to want to preserve those we've lost."—Book Riot

"Through the lens of loss and generational trauma, Chow develops a new form of contemplating the American family through three generations of her own Chinese-American family. The writer's transition from journalism to memoir isn't to be missed."—Cultured

"A deeply moving exploration of grief."—Marie Claire

"[A] deeply felt, indelibly moving memoir. . . This memoir is an excavation of a family's history, but it's also a reclamation of sorts, a reminder that our stories stretch out far past the edges of our own lives, and that there is comfort to be discovered in their reach, beauty to be found in their embrace."—Refinery29

"In carefully arranged pieces, anecdotes laid together like mosaic tiles, Chow unleashes the power of her own grief after the loss of her mother. . . The brilliance of Seeing Ghosts is that these fragments all tie together naturally--readers never pause to ask why Chow is bringing them under one roof, for they've learned to trust she'll reveal the connections in time. . . Seeing Ghosts is a book that will leave readers thinking, mourning, probing the absences and injustices of American life, equally haunted and soothed by ghosts."—Shelf Awareness

"Seeing Ghosts spins memories and individuals into entire worlds. Its strength lies in how it traverses landscapes, physical and emotional, that plot different moments of Chow's life and maps them for the reader. Chow spins her memories from herself, and they become something else entirely — haunting and beautiful reminders of the silences we keep stored in ourselves, and the ghosts they form when we begin to see."—Asia Pacific Arts

"[Seeing Ghosts] re-creates the uncanny experience of grief. Each page finds Chow peeling back the layers that mummify the thing closest to the truth, brushing away the dust to reveal the bone beneath."—Washington City Paper

"[U]ndeniably one of the best books you will read this year. . .  Chow has mastered the ability to voice the painful fallout of loss in all its excruciating detail, capturing the essence of how grief feels with each event along the way, no matter how small."—The Nerd Daily

"[Seeing Ghosts] could be such a heavy story, but it's got this marvelous mix of poetry and dry humor. . . The memoir is just so heartfelt, gorgeously written and rich in detail."—Here and Now

"A beautifully introspective reckoning with death."—South China Morning Post

"Chow's memoir takes the reader on a journey from China and Hong Kong to Cuba and America. She reclaims her family's history—and her own—through this masterpiece of experience."—SheReads