Advanced Parenting: Advice for Helping Kids Through Diagnoses, Differences, and Mental Health Challenges (Hardcover)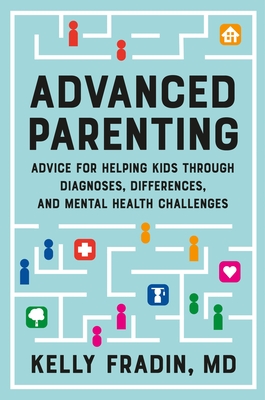 $29.00

Usually Ships in 1-5 Days
Description
---
"An invaluable resource for parents and caregivers," this important, empathetic guidebook offers practical steps for managing children's health (Emily Oster, PhD,  New York Times bestselling author of Cribsheet and Expecting Better).

Any parent who has ever walked out of a concerning appointment with their child's doctor or teacher has experienced a heady mix of emotions--fear, love, confusion, concern, sadness, and perhaps even anger. While every parent hopes for a healthy child, the reality is that children face many common challenges, including medical issues like ADHD, asthma, food allergies, feeding issues, learning disabilities, anxiety and depression, and developmental delays, throughout their formative years. As the role of a parent becomes one of a caregiver, it can be overwhelming for parents and children alike, particularly if money, time, access, or any combination of those are in short supply. 

As a balm, Dr. Kelly Fradin offers Advanced Parenting, based on her experience as a complex-care pediatrician. In this crucial guide, parents will find empathy and support as well as evidence-based practical guidance. Of greatest import is the need for tools with which to manage the emotional stress that comes from having a child who deviates from the norm, as well as coping with uncertainty and navigating the business of care. Readers will discover ways to optimize the outcomes for their family and make their day-to-day life easier.

Advanced Parenting will help families from the beginning of their journey, helping parents to decide when a child needs help, accepting the implications of a challenge, obtaining a correct diagnosis, learning about the issue, building a treatment team and coming up with a comprehensive plan. Dr. Fradin explores how a child struggling can affect the entire family dynamic including the parent's relationships and the siblings overall well-being, and with her experience as a complex care pediatrician, she will help parents avoid common mistakes. Parents will feel seen, supported, and better prepared to be both a parent and a caregiver.
About the Author
---
Dr. Kelly Fradin is a pediatrician, mother of two, and child advocate based in New York City. She was  inspired to become a doctor because of her experience surviving childhood cancer. A graduate of Harvard College and Columbia College of Physicians and Surgeons, she has dedicated her career to caring for children with complex medical conditions in many situations including academic clinics, private practice, inpatient units and schools. She shares realistic and empowering parenting advice and children's health information on her instagram account @AdviceIGiveMyFriends and in her first book Parenting in a Pandemic: How to help your family through COVID-19.
Praise For…
---
"This book is a must-read for any parent struggling through a complicated parenting problem. Dr. Fradin offers an invaluable resource for parents and caregivers facing significant challenges with their children's health."—Emily Oster, PhD, New York Times Bestselling author of Cribsheet and Expecting Better

"Dr. Kelly Fradin is a godsend to parents whose kids are facing almost any kind of challenge -- long term, short term, medical, emotional, you name it. This book is going to make you feel braver, smarter, and, oddly enough, realistic and optimistic at the same time. Dr. Fradin's empathy and experience come shining through, with practical advice and the reassurance of someone who has been there before -- as a kid with an illness, a pediatrician with a lot of hospital experience, and as a mom who 'gets it.'"—Lenore Skenazy, president of Let Grow, founder of the Free-Range Kids movement

"There's no book like this! In these pages, Dr. Kelly Fradin weaves hope and wisdom with rock-solid I've-been-there-too dependability into every suggestion and recommendation she makes. In this unique and beautiful book, Dr. Fradin speaks from her personal experiences as a patient, parent, and professional; she offers a treasure chest of information to manage everything that can go awry in a child's life. It's a certified godsend!"—Edward Hallowell, MD, author of Driven to Distraction

"Dr. Fradin writes with compassion and knowing. Advanced Parenting is a salve for those who unexpectedly find themselves facing a complicated parenting journey. More than that, it serves as a much-needed reminder that we are not alone in our challenges, and that there is a path to weathering the storm. How lucky we are to have Dr. Fradin as our guide."—Dr. Pooja Lakshmin MD, psychiatrist, author of Real Self-Care, and CEO + Founder of Gemma

"Advanced Parenting gives parents the lens, skill, and confidence to navigate their child's medical challenges. As both a parent of a child with chronic health issues, and as a pediatric mental health professional, I applaud Dr. Fradin's ability to focus on the importance of connection, while providing the kind of practical resource that will help parents and their children be resilient in the midst of the stress of what they're facing."—Tina Payne Bryson, LCSW, Ph.D., New York Times Bestselling co-author of The Whole-Brain Child & No-Drama Discipline, and author of The Bottom Line for Baby

"Parenting is hard no matter what, but it can be infinitely more complex if you're raising a child with a difference or challenging diagnosis. Advanced Parenting is a thorough and thoughtful book that has all the information you need to support your entire family."—Melinda Wenner Moyer, New York Times Bestselling author of How to Raise Kids Who Aren't Assholes

"This is the most essential arsenal in the extra-challenged parent's toolbox. Dr. Fradin's expert advice, empathy, and personal connection to those she hasn't even met yet makes her the person who should be holding your hand as you go through THIS. This book is the one so many parents didn't even know they needed — and won't be able to live without." —Zibby Owens, of the Moms Don't Have Time to Read Books podcast; author of Bookends: A Memoir of Love, Loss, and Literature and Princess Charming