The Last Hours in Paris: A Novel (Hardcover)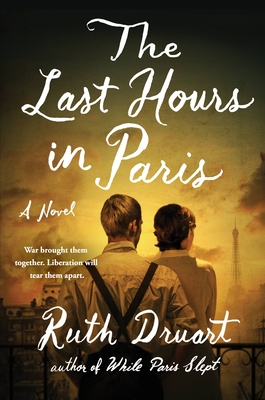 $28.00

Usually Ships in 1-5 Days
Description
---
A powerful portrait of war and retribution. A beautiful story of love and forgiveness.

"Words are power. They can bring you down, lift you up, make your heart soar, make you fall in love. Or make you hate."
Paris 1944. Elise Chevalier knows what it is to love . . . and to hate. Her fiancé, a young French soldier, was killed by the German army at the Maginot Line. Living amongst the enemy, Elise must keep her rage buried deep within.

Sebastian Kleinhaus no longer recognizes himself. Forced to join the Third Reich and wear a uniform he despises, he longs for a way out. For someone, anyone, to be his salvation.
Brittany 1963. Reaching for the suitcase under her mother's bed, eighteen-year-old Josephine Chevalier uncovers a secret that shakes her to the core. Determined to find the truth, she travels to Paris where she learns the story of a forbidden love as a city fought for its freedom. Of the last stolen hours before the first light of liberation. And of a betrayal so deep that it would irrevocably change the course of two young lives life forever.
About the Author
---
Ruth Druart grew up on the Isle of Wight, leaving at eighteen to study psychology. In 1993 she moved to Paris, the city that inspired her to write her Paris-set novels. There, she pursued a career in international education and raised three sons with her French husband. She recently left her teaching position, so she can write full time while running her writing group in Paris.
Praise For…
---
"A wonderful book—an involving, terrifying, heartbreaking story of the power of love and forgiveness."—Jill Mansell, Sunday Times bestselling author

"A wonderful, moving, sad, but ultimately uplifting book."—Lesley Pearse, Sunday Times bestselling author

"Engrossing . . . a tender, yet thrilling story of love and family secrets in a time of war, beautifully told."—Rachel Hore, Author of One Moonlit Night

"Ruth is an exceptional storyteller. She weaves brave female characters through fascinating storylines. Her level of detail brings the past back to life, shining a light in the darkness. Love, loss, bravery. She's like my favorite history teacher ever! My new go to author. I recommend her to everyone."—Ericka Waller, Author of Dog Days

"These characters command sympathy . . . A vivid exposé of war and its dislocations."—Kirkus

"[Ruth Druart] made me think and cry and rage and smile at mankind's capacity for both beautiful, selfless love and terrible, heartbreaking cruelty." —Natasha Lester, Author of The Paris Secret, Praise for While Paris Slept

"[Ruth Druart is] a brilliant and bold new novelist . . . [she] fills each page with thrilling suspense, uncommon emotional depth, and fascinating characters."—Imogen Kealey, Author of Liberation, Praise for While Paris Slept

"Good people coping with an impossible situation are at the heart of Druart's [writing]."—Publishers Weekly, Praise for While Paris Slept

"Druart penetrates to the heart of . . . emotional questions."—Historical Novel Society, Praise for While Paris Slept