A Dog's Chance (Mass Market)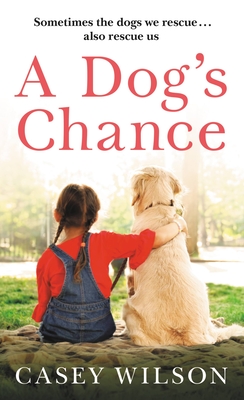 $8.99

Usually Ships in 1-5 Days
Description
---
A reminder of the unbelievable bonds we form with the dogs in our lives. No matter how broken you are, the unconditional love of a dog can piece you back together in this book that's perfect for fans of A Dog's Purpose, The Art of Racing in the Rain, and Marley and Me.


Madison knows her fourteen-year-old daughter Abbie is struggling. She wishes she could give Abbie stability, the promise of a forever home in Millbury, but she is scared to stay in one town for too long, and every day Abbie seems more anxious. Until a chance encounter with a beautiful, boisterous golden retriever puppy called Duke changes everything...
Duke bounces into the community centre where Madison is working and when Abbie meets him she stops pacing the room. Duke is tugging his owner, seventy-five-year-old Arthur, along for the ride, and instantly Madison sees a way she and Arthur can help each other. She offers to train Duke so that Abbie gets to see him, and from that moment the four of them become a family.
Madison finally feels like she has a second chance at life and a reason to stay in town, but when her past catches up with her they are all at risk. Duke may have united this family, but will he be able to keep them together?
About the Author
---
Casey Wilson is the author of A Dog's Hope. Born and raised in the United States in Nevada, she is the owner of a gorgeous golden retriever, who may or may not have inspired the dogs in her novels.
Praise For…
---
"The characters in A Dog's Chance will warm you like the devotion of a cherished pet. You'll root for them every step of the way in this sweet and charming book."
 —Christine Nolfi, bestselling author of The Passing Storm

"A tender, heartwarming tale of second chances and friendship in unexpected places. Dog lovers will adore seeing the story unfold through Duke's, the gorgeous canine, eyes."—Nicola Marsh, USA Today bestselling author

"Absolutely heart-warming... I loved this novel and I found it difficult to put down even for a moment... Sweet and inspiring... I encourage anyone who is a dog lover or who enjoys heart-warming tales of finding yourself, your family, and your purpose to read this book."—The Writer's Inkwell

"The first sentence already broke my heart, but it was mended again very soon... A beautiful and heart-warming story about a puppy being saved and finding his 'family'... I loved it."—B for Book Review

"Remarkable... So touching... Utterly captivated me and brought me to tears... heartbreaking and uplifting."—Robin Loves Reading