Unsettled Land: From Revolution to Republic, the Struggle for Texas (Hardcover)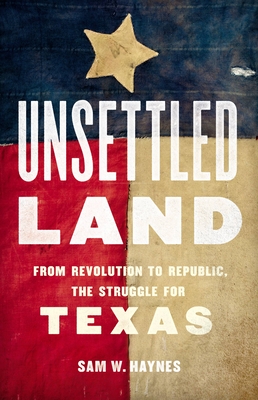 $35.00

Usually Ships in 1-5 Days
Description
---
A bold new history of the origins and aftermath of the Texas Revolution, revealing how Indians, Mexicans, and Americans battled for survival in one of the continent's most diverse regions 
 
The Texas Revolution has long been cast as an epic episode in the origins of the American West. As the story goes, larger-than-life figures like Sam Houston, David Crockett, and William Barret Travis fought to free Texas from repressive Mexican rule. In Unsettled Land, historian Sam Haynes reveals the reality beneath this powerful creation myth. He shows how the lives of ordinary people—white Americans, Mexicans, Native Americans, and those of African descent—were upended by extraordinary events over twenty-five years. After the battle of San Jacinto, racial lines snapped taut as a new nation, the Lone Star republic, sought to expel Indians, marginalize Mexicans, and tighten its grip on the enslaved. 
 
This is a revelatory and essential new narrative of a major turning point in the history of North America. 
About the Author
---
Sam W. Haynes is a professor in the department of history and the director of the Center for Greater Southwestern Studies at the University of Texas at Arlington. He lives in Dallas, Texas.
Praise For…
---
"A powerful counternarrative to the traditional foundational myths about the defense of the Alamo and the origins of Texas…Haynes's riveting tale of the state's violent, intolerant, color-coded history reverberates in the radical politics of today's increasingly radical Texas Republican Party."—
Foreign Affairs
"Cinematic prose…Haynes' work offers a critical history of Texas, delivered like a collection of incisive and colourful campfire yarns."—
Irish Times
Historian Haynes' history of early Texas goes beyond the usual focus on battles at the Alamo and San Jacinto, widening his scope to include all who lived in or emigrated to Texas...He illuminates the lives of Mexican settlers, African American freemen, and enslaved people."—
Booklist
"A much-needed exploration of the complex racial history of early Texas."—
Kirkus
"Eye opening...Haynes convincingly chips away at nearly 200 years of hagiography that has elevated the role of white settlers in shaping Texas...this is a robust reconsideration of a crucial turning point in American history."—
Publishers Weekly
"[A] deeply researched, gracefully written, and thoughtfully argued masterpiece." 
 —
Southwestern Historical Quarterly
"[A] gripping story, with multiple complicated protagonists, and a framework that makes Mexican, indigenous, and black protagonists key to the origin of Texas." —
Texas Books in Review
"In
Unsettled Land
, Sam W. Haynes rescues the history of the Texas Revolution from romantic nationalism. He offers, instead, a gripping tragedy where a violent regime of racial exploitation supplanted an earlier experiment in multi-ethnic coexistence. Filled with vivid characters and dramatic plot twists,
Unsettled Land
reads like a nonfiction novel rich in insights about our present and past."—
Alan Taylor, author of American Republics
"This brisk narrative illuminates the messy business of settlement, war, and independence in a multiracial borderland, and provides the most compelling history of Texas's founding in generations. Unsettled Land proves that no one knows the history of nineteenth-century Texas better than Sam W. Haynes."
—
Amy S. Greenberg, author of Lady First
"History is always messy, yet the first half of the nineteenth century in Texas is especially so. Sam W. Haynes does a remarkable job conveying the conflicting visions of the numerous groups who fought over a land that elicited the best and worst in all of them. And he does it with an artful touch, drawing narrative order out of the historical chaos."
 —
H.W. Brands, author of Our First Civil War
"No chapter in American history calls more for a thorough re-telling than the origins of Texas.  In the vividly written Unsettled Land, Sam W. Haynes meets that challenge, and his story is vastly more revealing than the tired myths that have held the stage for so long. Once one of the most ethnically and culturally diverse areas on the continent, Texas underwent a steady narrowing of possibilities until by the war with Mexico it was saddled with an iron Anglo rule that shoved to the margins the Native peoples, Hispanos, Blacks, and others who had played so prominently in its early years.  It is a fascinating, if dispiriting, story."
—
Elliott West, University of Arkansas
"Sam W. Haynes widens dramatically our angle of view beyond the canonical figures Travis, Crockett, and Bowie and in the process offers a thrilling, fresh, and deeply human narrative of early Texas. What a compelling read!"—
Andrés Reséndez, author of The Other Slavery
"This is the book we desperately need on the Texas Revolution.
Unsettled Land
shows Texas as it was, not as it has appeared on the set of
The Alamo.
Haynes' Texas was a multiracial society, where free African Americans became prominent merchants, and where white land speculators staged revolts with Indigenous allies. For the likes of Sam Houston and Stephen Austin, the Texas Revolution promised freedom from Mexican rule. But for the Indigenous peoples and African Americans who had forged lives in Mexican-era Texas, independence signaled a loss of freedom. With gripping prose, Haynes captures both the drama and the complexity of the Mexican province that would eventually become the Lone Star State."—
Alice L. Baumgartner, author of South to Freedom