Without Children: The Long History of Not Being a Mother (Hardcover)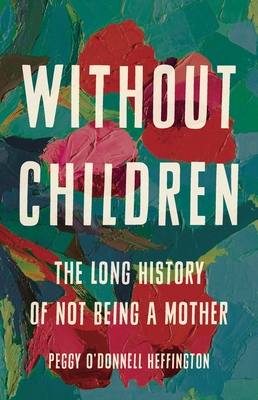 $29.00

Usually Ships in 1-5 Days
Description
---
A historian explores the complicated relationship between womanhood and motherhood in this "timely, refreshingly open-hearted study of the choices women make and the cards they're dealt" (Ada Calhoun, author of Why We Can't Sleep).

In an era of falling births, it's often said that millennials invented the idea of not having kids. But history is full of women without children: some who chose childless lives, others who wanted children but never had them, and still others—the vast majority, then and now—who fell somewhere in between. Modern women considering how and if children fit into their lives are products of their political, ecological, and cultural moment. But history also tells them that they are not alone. 
  
Drawing on deep research and her own experience as a woman without children, historian Peggy O'Donnell Heffington shows that many of the reasons women are not having children today are ones they share with women in the past: a lack of support, their jobs or finances, environmental concerns, infertility, and the desire to live different kinds of lives. Understanding this history—how normal it has always been to not have children, and how hard society has worked to make it seem abnormal—is key, she writes, to rebuilding kinship between mothers and non-mothers, and to building a better world for us all. 
About the Author
---
Peggy O'Donnell Heffington is an instructional professor of history at the University of Chicago and teaches subjects ranging from feminism to human rights. Her writing can be found in Jezebel,the Los Angeles Review of Books, the Boston Globe, and elsewhere. She received her PhD in history from the University of California, Berkeley. 
Praise For…
---
"Without Children is a feat of diligent research and, better yet, blazing argument . . . Each chapter of Without Children is vivid and informative enough to fascinate in its own right."
 —Becca Rothfeld, Washington Post

"Impeccably researched" —San Francisco Chronicle

"[a] well-researched and compellingly readable history… Without Children will interest readers engaged with intersectional feminist thought and women's rights in a wide variety of contexts."—Booklist

"Provocative and well researched… A liberatingly perceptive work of sociology and cultural history."—Kirkus

"Historian Heffington's incisive debut examines how society demonizes women without children while increasingly failing to provide the supports that make it possible to raise kids sustainably...A cogent and well-supported polemic." —Publishers Weekly

"Regardless of our parenting status, Without Children will make each of us more empathetic towards the decisions others make, and hopefully more supportive of and invested in our communities as well."
 —Gabbi Cisneros, Porchlight Books

"Desire, doubt, destiny—there are many reasons for the shape of a family. With clarity and compassion, historian Peggy O'Donnell Heffington offers a timely, refreshingly open-hearted study of the choices women make and the cards they're dealt."—Ada Calhoun, author of Why We Can't Sleep

"At once bracing and beautiful, Without Children is a timely meditation on all of the reasons why women increasingly can't, don't, or won't have children—along with the social penalties they pay, the freedoms they garner, and the feminist solidarity that we can all build together, whether we have children or not. I was intrigued and carried along for the book's length by O'Donnell Heffington's lyricism, thoughtfulness, humor, and panache."—Kate Manne, author of Entitled

"I devoured this book. Peggy O'Donnell Heffington is the rare serious historian who writes with verve and humor, bringing to life the big, hard questions of history that illuminate the present. Without Children is a story of women who decided not to have children, but ultimately shows us new things not only about these women, but about family, motherhood, childhood, aspiration, and love in a precarious world. It is a signal contribution to the historical field and a vivid series of stories that are alternately shocking, funny, and inspiring."—Kathleen Belew, author of Bring the War Home

"A woman with children is a mother.  A woman without children has no name. Without Children, written with warmth and insight and layered with deeply personal stories, tells us this woman in fact has many names, faces, and identities—all worth knowing."—Lara Bazelon, author of Ambitious Like a Mother

"Without Children is the rich, nuanced history of women without children that has been missing from the discourse. Peggy O'Donnell Heffington skillfully avoids the trap of pitting women without children against mothers, while showing how the choice of whether or not to be a mother has historically been dictated by—you guessed it!—the patriarchy. A necessary book, whatever your parental status is."—Doree Shafrir, author of Thanks for Waiting