Just Mary Reader: Mary Grannan Selected Stories (Paperback)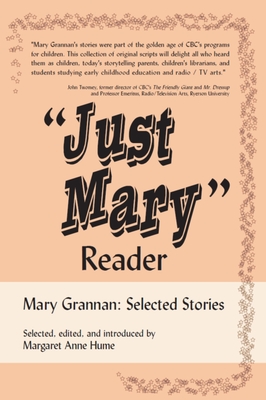 $24.99
Email or call for price.
Description
---
For twenty-three years during the golden age of radio in Canada, stories for children by Mary Grannan, Just Mary, were broadcast by CBC and beloved across the country. She retired from broadcasting in 1962 and died in 1975, but her sweet-tempered and humorous stories still have the power to entertain, while recapturing the atmosphere of another time.
Grannan published stories from Just Mary and Maggie Muggins in over thirty best-selling books, but she had other radio series that were never released in print. The Just Mary Reader presents for the first time a selection of her stories from two other radio drama series. Jubilee Road tells the adventures and misadventures of Johnny and Patty Little and their friend Salty Pickle. Or, as Johnny describes it: We get into quite a few messes, but if you know us, you'll know that it's hardly ever our fault.
In Land of Supposing, Grannan retold fairy tales and legends from around the world, as well as a few legends of her own making. Previously unpublished selections from Just Mary and Maggie Muggins complete the collection.
About the Author
---
Margaret Anne Hume is the author of Just Mary:: The Life of Mary Evelyn Grannan. She first became entranced with Grannan's stories when she was a young girl in New Brunswick. Educated at the universities of New Brunswick and McGill, she worked as a librarian at Concordia University in Montreal in the 1990s. She lives with her husband in Vancouver.
Praise For…
---
"I am honoured to recommend this book. The format will allow students to use the Just Mary Reader for Reader's Theatre, bringing Mary Grannan's stories to life for a new generation."
Judy MacLean, Acting Director, Nashwaaksis Public-School Library