Maggie the Mechanic: A Love and Rockets Book (The Complete Love and Rockets Library) (Paperback)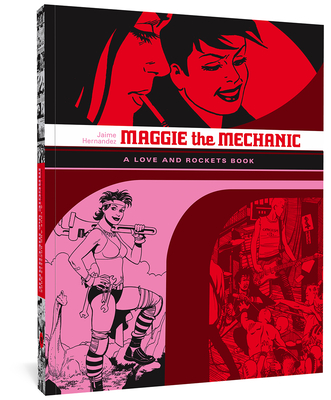 $19.99

Usually Ships in 1-5 Days
Other Books in Series
This is book number 2 in the The Complete Love and Rockets Library series.
Description
---
Collects the earliest, most sci-fi comics in Jaime Hernandez's Locas/Locos storyline, ripped from the pages of Love and Rockets: meet teenage mechanic Maggie, her anarchic best friend and sometimes-lover, Hopey, and their friends from the Southern Californian Hoppers 13, aka Huerta, neighborhood punk scene.
This volume is the first in a comprehensive and chronological series,
The Complete Love and Rockets Library
, and the first that collects all of writer-artist Jaime Hernandez's "Locas" comic books and graphic novels. The storyline revolves around the indomitable Maggie, her anarchic best friend/occasional lover, Hopey, punk music, paramours, friends, family, and the Southern Californian neighborhood Hoppers 13, aka Huerta.
Maggie the Mechanic
collects the earliest and most sci-fi stories where, in addition to our heroes, we meet bombshell Penny Century, weirdo mentor Izzy, wrestler Rena Titanon, and potential love interest Rand Race. As well as seeing Hernandez develop as a cartoonist from 1981 to 1989, readers will see how he draws characters with various body types that change as they age in "real-time."
These stories first appeared in the seminal, long-running (and ongoing) Love and Rockets comics series, also featuring work by Jaime's brothers, Gilbert and Mario. L&R has been called "the greatest American comic book series of all time" by Rolling Stone and "a great, sprawling American novel" by GQ. It broke ground with its craft and the casual intersectionality of its huge and diverse casts of nuanced characters (many of whom are LGBQTIA+) who live and have relationships in often-naturalistic settings and situations (although L&R has SF and magical realist elements too). Along with contemporaries Chris Ware, Lynda Barry, and Daniel Clowes, the Hernandez brothers pushed the comics medium into new artistic heights.
About the Author
---
Jaime Hernandez was one of six siblings born and raised in Oxnard, California. His mother passed down a love of comics, which for Jaime became a passion rivaled only by his interest in the burgeoning punk rock scene of 1970s Southern California. Together with his brothers Gilbert and Mario, Jaime co-created the ongoing comic book series Love and Rockets in 1981, which Gilbert and Jaime continue to both write and draw to this day. Jaime's work began as a perfect (if unlikely) synthesis of the anarchistic, do-it-yourself aesthetic of the punk scene and an elegant cartooning style that recalled masters such as Charles M. Schulz and Alex Toth. Love and Rockets has evolved into one of the great bodies of American literary fiction, spanning five decades and countless high-water marks in the medium's history. In 2016, Hernandez won the prestigious Los Angeles Times Book Prize for his graphic novel, The Love Bunglers. In 2017, he (along with Gilbert) was inducted into the Will Eisner Comic Book Hall of Fame, and, in 2018, he released his first children's book, the Aesop Book Prize-winning The Dragon Slayer: Folktales from Latin America. He is a lifelong Angeleno.
Praise For…
---
I don't really understand why the material of Love and Rockets isn't widely regarded as one of the finest pieces of fiction of the last 35 years. Because it is.

— Neil Gaiman