Barnyard Dance! (Boynton on Board) (Board book)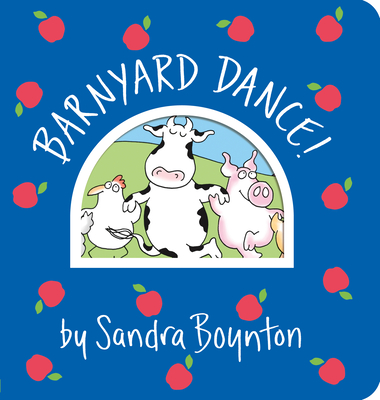 Staff Reviews
---
This book has such fantastic rhythm and rhyme that to this day, when I recite any of the lines in my head (from memory, yes I listened to it that much), I must use the same tempo that my parents always used when they read this to my sister and me. It's our family's go-to gift for new parents to this day. Fun, silly, and classic.
— Liz
Description
---
Everybody sing along—because it's time to do-si-do in the barnyard with a high-spirited animal crew! From Boynton on Board, the bestselling series of board books, here is BARNYARD DANCE, with Sandra Boynton's twirling pigs, fiddle-playing cows, and other unforgettable animals. Extra-big, extra-fat, and extra-fun, BARNYARD DANCE features lively rhyming text and a die-cut cover that reveals the wacky characters inside. Guaranteed to get kids and adults stomping their feet. The "Barnyard Dance! song, performed by John Stey, is available for download. For ages 0-4.
Oversized lap edition also available—perfect for reading aloud!
About the Author
---
Sandra Boynton is a popular American cartoonist, children's author, songwriter, producer, and director. Since 1974, Boynton has written and illustrated over sixty children's books and seven general audience books, including five New York Times bestsellers. More than 70 million of her books have been sold, "mostly to friends and family," she says. She has also written (with Michael Ford) and produced six albums of renegade children's music. Three of her albums have been certified Gold (over 500,000 copies sold), and Philadelphia Chickens, nominated for a Grammy, has gone Platinum (over 1 million copies sold). Boynton has also directed twelve music videos of her songs, including the award-winning "One Shoe Blues" starring B.B. King, "Alligator Stroll" starring Josh Turner, and "Tyrannosaurus Funk" (animation) sung by Samuel L. Jackson. She lives in rural New England, and her studio is in a barn with perhaps the only hippopotamus weathervane in America.
Praise For…
---
"Sandra Boynton has a knack for creating baby books with bounce. Her Barnyard Dance! Is a true romp of a board book, with cartoon farm animals that are wacky enough to make you laugh out loud, and rhymes clever enough to sustain those nearly infinite re-readings: 'Stand with the donkey / Slide with the sheep / Scramble with the little chicks - cheep cheep cheep!' Now, here's a woman who really knows how to use an active verb." —Parents

"The popular illustrator and greeting-card artist brings oddball humor and plenty of sassy energy to Boynton on Board, a quartet of concept board books. Each volume features a die-cut front cover framing a picture of its ebullient cartoon stars. A zany sensibility gives an extra bounce to the otherwise conventional counting book One, Two, Three! A similar silliness suffuses Dinosaurs, which explores opposites. In Barnyard, farm animals dance a boisterous, breathless, knee-slapping reel called, with great panache, by a fiddle-playing cow: 'Bow to the horse. / Bow to the cow. / Twirl with the pig if you know how.' The rowdy crew in Monsters bursts in upon a mild-mannered hippo and makes 'the mess that monsters make,' but returns to make amends. Fresh and buoyant, these books are good, clean fun." Ages 1-4. —Publishers Weekly