All Out!: An Autobiography (Psychology) (Hardcover)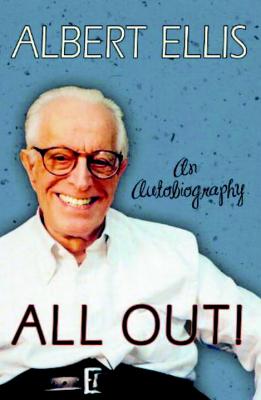 $30.99
Email or call for price.
Description
---
This candid autobiography, the last work by renowned psychologist Albert Ellis, is a tour de force of stimulating ideas, colorful descriptions of memorable people and events, and straightforward, no-nonsense talk. Ellis, the creator of one of the most successful forms of psychotherapy—Rational Emotive Behavior Therapy (REBT)—recounts the memorable episodes of his life; discusses how he coped with emotional problems at different stages of life; describes his love life; and subjects his own self-description to a ruthlessly honest critique.
The heart of Ellis's book is his analysis of the psychological leitmotifs that have appeared again and again throughout his life. He describes the aim of this autobiography as follows: "As far as I can, I shall present my bad and good, stupid and intelligent, weak and strong points. Why? Because, following H. G. Wells's recommendation, I want to go as all-out as I can. I want to acknowledge my idiocies—and use REBT to feel sorry about but unashamed of them. I want to make the point—again a central tenet of REBT—that all humans are fabulously fallible—including, of course, me. We have no real choice about this, but we can unconditionally accept ourselves—our so-called essence or being—with our fallibility. That will momentously help us, probably encourage us to acquire unconditional self-acceptance (USA) and possibly inspire other people to give it to themselves, too." With a concluding chapter by Ellis's widow, Debbie Joffe Ellis, describing the final years of his life, this is the definitive summation of the life and work of one of psychology's most successful thinkers and practitioners.
About the Author
---
Albert Ellis, PhD (1913-2007) practiced psychotherapy, marriage and family counseling, and sex therapy for over sixty years. He was the author of more than eighty books, including many popular best sellers. Other books by Albert Ellis available from Prometheus Books are: The Myth of Self-Esteem; The Road to Tolerance; Rational Emotive Behavior Therapy: It Works for Me—It Can Work for You; Overcoming Destructive Beliefs, Feelings, and Behaviors: New Directions for Rational Emotive Behavior Therapy; and (with Raymond J. Yeager) Why Some Therapies Don't Work: The Dangers of Transpersonal Psychology.