Chirri & Chirra, the Rainy Day (Hardcover)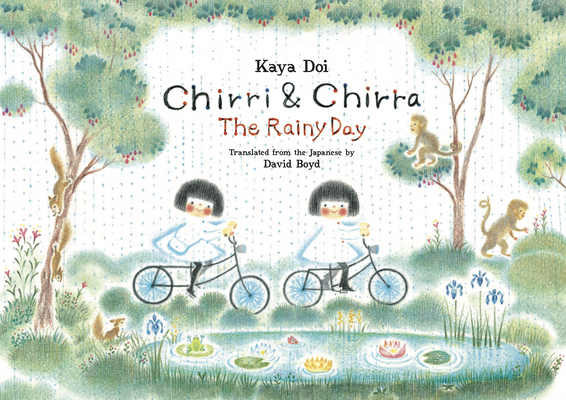 $16.95

Usually Ships in 1-5 Days
Staff Reviews
---
An ode to rain.  And an ode to spending the day with a friend.   Chirri and Chirra are friends living in Japan who enjoy the simple, pure pleasure of being together, whether it's sitting in a tea shop watching the rain through a window, buying stamps from a stamp shop, or riding their bikes through puddles.  Non-American books can be a wonderful departure from the usual fare (this one is translated from Japanese) because they offer up a different sort of sensibility in both the text and the art. This one is a gem.
— Donna
Description
---
Dring-dring With the distinctive sound of their bicycle bells, Chirri and Chirra are off on another whimsical adventure. In this new installment of the beloved series, the twins brave a rainy day together...after all, stormy weather is no match for their boundless energy and curiosity. The pair happens upon a cafe that is only open on rainy days, and they sip tea with a side of sweet rock candy as they watch the droplets fall. They continue their journey, only to discover that the rain is now falling upside-down, their bicycles suspended on the droplets as they ride along. For these winsome twins, the world is a haven of endless discovery, of wonderful oddities, of adventure and excitement without danger. Kaya Doi's illustrations, rendered in glowing colored pencil, are warm and inviting for readers, ushering them into the pages like a safe haven from the rain outside.
About the Author
---
Born in Tokyo, Japan, Kaya Doi graduated with a degree in design from Tokyo Zokei University. She got her start in picture books by attending the Atosaki Juku Workshop, held at a Tokyo bookshop specializing in children's books. Since then she has created many picture books featuring her delicate color-pencil drawings. She lives in Chiba Prefecture and maintains a strong interest in environmental and animal welfare issues. Since the earthquake of 2011 she has been active in recovery and shelter efforts for abandoned pets. David Boyd is assistant professor of Japanese at the University of North Carolina at Charlotte. His translations have appeared in Monkey Business International, Granta, and Words Without Borders, among other publications.