Calm My Anxious Heart: A Woman's Guide to Finding Contentment (CD-Audio)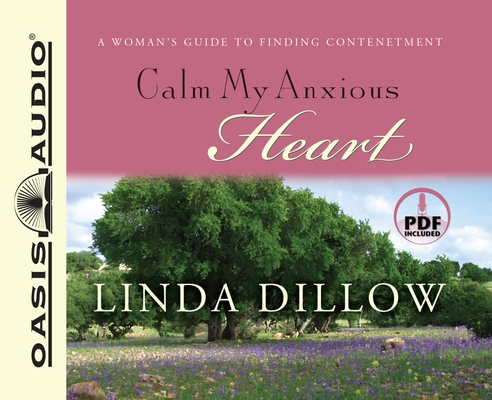 $19.99
Email or call for price.
Description
---
Imagine what your life would be like without worry. Women worry a lot. We worry about our children, our friends, our careers, our families, our spouses—the list could go on and on. Yes, we want to be content and trust God with our worries, but it's a struggle to let go and free ourselves from the burden of anxiety. If you're tired of worrying about all the what-ifs in your life and want to experience the calm and contentment promised in Scripture, Calm My Anxious Heart is what you've been looking for. Filled with encouragement and practical help for overcoming anxiety, this audiobook includes a twelve-week Bible study to help you discover what the Bible says about contentment and ways to apply it to your daily life. With Calm My Anxious Heart you can let go of your anxiety and experience the contentment that comes from trusting God.
About the Author
---
Linda Dillow is the author or coauthor of numerous best-selling books, including Satisfy My Thirsty Soul, A Deeper Kind of Calm, Creative Counterpart, Intimate Issues, and Intimacy Ignited. Linda and her husband, Jody, lived in Europe and Asia for seventeen years training Christian leaders with Biblical Education by Extension. Linda now speaks frequently at women's conferences. The Dillows, who have four grown children and seven grandchildren, live in Monument, Colorado.
Praise For…
---
"For anyone struggling with contentment (and that's probably just about everyone!), Linda's book is a must-read. She climbed into my life, challenged me, gave me food for thought, and spoke to issues each of us struggles with." —Carole Mayhall, speaker; author of Words That Hurt, Words That Heal

"When Linda Dillow writes, women should take notice. The years living out her faith in hard places validates her challenge to each of us to let God calm our anxious heart." —Claudia Arp, cofounder, Marriage Alive International, Inc.; coauthor of The Second Half of Marriage

"With a clear and distinctive delivery narrator Christy King creates the atmosphere needed for the listener to relax and meditate on this book's biblical message. The subtitle of the work, "A Woman's Guide to Finding Contentment," describes its premise. Author Linda Dillow covers many of the problems a woman may face today, such as discouragement, anxiety, fear, and discontent. She recounts personal events in her life as well as stories from the lives of others. Applying scripture to all aspects of life, she teaches the value of living unselfishly in modern society. As narrator, King adds a soothing touch, with empathy clearly evident in her voice. This is a great audiobook for anyone struggling with life's challenges." 
N.L. © AudioFile Portland, Maine