The Girls Body Book: Fourth Edition (Paperback)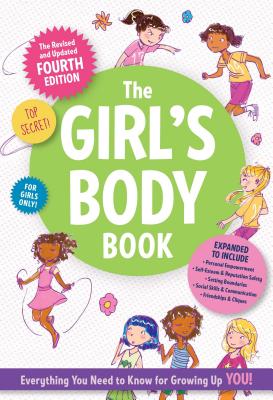 Description
---
We're ready to answer all your questions! This fourth edition of the top-selling book for pre-teen girls has been fully updated and expanded to include everything you need to know about your changing body, texting and social media, friendship and peer pressure, leadership, and so much more!

You're growing up! It's an exciting time with new freedoms, new friendships, even new clothes! But with everything that's changing--your body, your emotions, your relationships--you are bound to have. questions. Don't worry, The Girl's Body Book is here to help.

Your Changing Body: What is this thing called puberty everyone keeps talking about and how will it affect your growing body?

Your Changing Relationships: Your guide to the care and keeping of parents, siblings, friends, teachers, and yes, even boys.

Your Changing Life: How to dress for success, be a good friend, eat right, and keep yourself safe in both the real and virtual worlds while still keeping your personal stress meter in the safe zone.

There's a lot to learn about this next phase of your life. So what are you waiting for? Let The Girl's Body Book be your guide. Your whole life is waiting for you!
About the Author
---
Kelli Dunham, RN, BSN, is a nurse, stand-up comic, and author of How to Survive and Maybe Even Love Nursing School, How to Survive and Maybe Even Love Your Life as a Nurse, and The Boy's Body Book: Everything You Need to Know for Growing Up You, also published by Applesauce Press. She has worked as a primary care and home visiting nurse with first-time new moms. She has lived in Port-au-Prince, Haiti, Ohio, Oklahoma, Florida, Portland, Oregon, New York, and on a houseboat in Philadelphia. In her spare time she likes to read, skateboard, and she would really, really like to learn to play the banjo.