Things I Wish I'd Known Before We Got Married (Library Edition) (CD-Audio)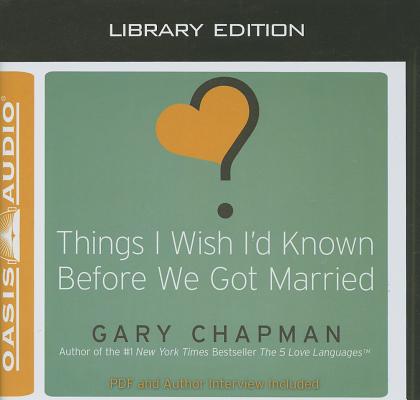 $34.99
Email or call for price.
Description
---
Before you plan your wedding, plan your marriage! Wish you could know what you're getting into when you say "I do"? Now, with Things I Wish I'd Known Before We Got Married, you can. Dr. Gary Chapman, #1 New York Times best-selling author of The 5 Love Languages™, has spent the last thirty-five years counseling couples. In Things I Wish I'd Known Before We Got Married, he shares what he and these couples have learned from experience. Among the twelve things you should know: that being in love is not enough to make a successful marriage, that romantic love has two stages (and how to make the transition), that mutual sexual fulfillment is not automatic, and that personality profoundly affects behavior. The stakes on marriage are high, but the rewards of preparing are even higher. Whether you're single or dating, this audio can be your relationship blueprint and help you decide if and when you're ready to tie the knot. If you're engaged, even recently married, it will help you examine your relationship foundation and learn the skills necessary for building a successful marriage. Things I Wish I'd Known Before We Got Married was written to help you realize your goal of marital happiness. But don't just listen to it—experience it. Grapple with the practical tips and ideas discussed, honestly share your thoughts and feelings, respect each other's opinions, and find workable solutions to your differences. The more you do so, says Chapman, the more you will be prepared for marriage.
About the Author
---
Gary Chapman is the author of the bestselling 5 Love Languages™ series and the director of Marriage and Family Life Consultants, Inc. Gary travels the world presenting seminars, and his radio programs air on more than 250 stations.
Praise For…
---
"Chapman provides a compact discussion of the skills couples need to manage the challenges involved in a mature marriage. The veteran counselor and author, whose Christian sensibilities are more loving than doctrinaire, uses his own early marriage struggles to illustrate how easy it is to underestimate the work that long-term partnerships require. Succinct chapters on topics like family-of-origin habits, attitudes about money, sexual fulfillment, household chores, and making apologies unfold seamlessly with the help of narrator and fellow Christian radio personality Chris Fabry. His appealing enthusiasm makes this wisdom sparkle with promise. Questions for premarital conversations follow each chapter and can help couples see where the challenges will be when being "in love" evolves into the daily work of emotional intimacy and issues of compatibility." 
T.W. © AudioFile Portland, Maine