Firestorm: How Wildfire Will Shape Our Future (Hardcover)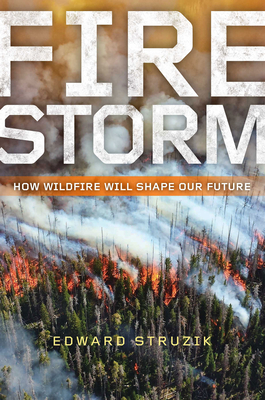 $32.00
Email or call for price.
Description
---
"Frightening...Firestorm comes alive when Struzik discusses the work of offbeat scientists."  —New York Times Book Review

"Comprehensive and compelling." —Booklist

"A powerful message." —Kirkus

"Should be required reading." —Library Journal 

For two months in the spring of 2016, the world watched as wildfire ravaged the Canadian town of Fort McMurray. Firefighters named the fire "the Beast." It acted like a mythical animal, alive with destructive energy, and they hoped never to see anything like it again. Yet it's not a stretch to imagine we will all soon live in a world in which fires like the Beast are commonplace. A glance at international headlines shows a remarkable increase in higher temperatures, stronger winds, and drier lands– a trifecta for igniting wildfires like we've rarely seen before.

This change is particularly noticeable in the northern forests of the United States and Canada. These forests require fire to maintain healthy ecosystems, but as the human population grows, and as changes in climate, animal and insect species, and disease cause further destabilization, wildfires have turned into a potentially uncontrollable threat to human lives and livelihoods.

Our understanding of the role fire plays in healthy forests has come a long way in the past century. Despite this, we are not prepared to deal with an escalation of fire during periods of intense drought and shorter winters, earlier springs, potentially more lightning strikes and hotter summers. There is too much fuel on the ground, too many people and assets to protect, and no plan in place to deal with these challenges.

In Firestorm, journalist Edward Struzik visits scorched earth from Alaska to Maine, and introduces the scientists, firefighters, and resource managers making the case for a radically different approach to managing wildfire in the 21st century. Wildfires can no longer be treated as avoidable events because the risk and dangers are becoming too great and costly. Struzik weaves a heart-pumping narrative of science, economics, politics, and human determination and points to the ways that we, and the wilder inhabitants of the forests around our cities and towns, might yet flourish in an age of growing megafires.
About the Author
---
Edward Struzik is an award-winning writer and photographer. His previous books include Future Arctic, Arctic Icons, and The Big Thaw, among others. A fellow at the Institute for Energy and Environmental Policy at Queen's University in Kingston, Canada, his numerous accolades include the prestigious Atkinson Fellowship in Public Policy and the Sir Sandford Fleming Medal, awarded for outstanding contributions to the understanding of science. He lives in Edmonton, Alberta.  
 
Praise For…
---
"Frightening...Firestorm comes alive when Struzik discusses the work of offbeat scientists."
— New York Times Book Review

"As greater and more destructive fires become the norm, this narrative should be required reading."
— Library Journal

"Combining personal insights with keen investigative-journalistic skills, Struzik presents a comprehensive and compelling overview of the future of wildfire management."
— Booklist

"Struzik delivers a powerful message that will appeal to environmentally minded readers and students of climate change."
— Kirkus

"Struzik's compelling narrative combines personal stories, photographs, history, and interviews with scientists, government officials, and the public. What emerges is a portrait of the intricacies of the forest management practices, settlement patterns, economic motivators, and political pressures that lead up to and influence decisions during these wildfires...Struzik warns readers of the bleak reality that may lie ahead if we continue 'business as usual,'…[but] does not forfeit hope...The decisions and policies we make now, as a nation and as a global community, will have a profound influence on what our world looks like in the future."
— Science

"A new wildlife paradigm is emerging in North America's boreal forests...Edward Struzik's deft account interweaves reportage, science and policy to show how fires that are normally key to ecological resilience are growing bigger and faster, thawing permafrost, degrading watersheds and disrupting habitats of species from grizzly bears to fungi."
— Nature

"Struzik...cover[s] over a century of scorched earth where science, business, and politics have collided over and over again to produce ever-shifting policies of containment and prevention. Not just a remarkable history, the book also speculates about future where humans might not eradicate megafires, but thrive nonetheless."
— Omnivoracious: The Amazon Book Review

"Searing."
— High Country News

"Firestorm reads at times like an exhilarating novel but it is neither flippant nor alarmist...The book is a clear-eyed vision, expertly and compellingly told, of what's ahead as the climate warms...a fascinating page-turner."
— Edmonton Journal

"An essential and crackling good read on the new reality of megafires...a new kind of prophetic non-fiction...Firestorm belongs in both depth and timeliness next to Elizabeth Kolbert's fascinating and grim account of the forces eroding biological diversity in The Sixth Extinction."
— Tyee

"Firestorm paints a comprehensive picture of the changes taking place in the boreal forest and how wildfires are reshaping Alberta...Struzik masterfully weaves together interviews with dozens of wildfire researchers and management experts."
— Alberta Views

"Throughout Firestorm Struzik treats his readers to the exceptional analysis and exposition distinguishing him as one of our best science/environment/nature writers... It's a must-read for anyone wanting to learn about our past relationship with wildfire, for anyone looking for suggestions about what needs to be done to retain some influence over how wildfire will figure in our future."
— Wildlands Advocate

"Impressively and comprehensively informative, exceptionally well written, organized and presented, Firestorm: How Wildfire Will Shape Our Future is one of those extraordinary studies that will be read with interest by environmental experts and non-specialist general readers alike. Certain to be an enduringly valued and highly prized addition."
— Midwest Book Review

"A fascinating and much-need account of a new, fiercer era of forest fire. Struzik is a sure guide as we set out on an uncertain path through the smoky woods and beyond."
— David George Haskell, author of The Songs of Trees and The Forest Unseen. Professor, University of the South

"Powerful and thought-provoking, Firestorm expertly frames emerging wildfire trends and future challenges. Offering a timely, insightful view of our changing wildfire paradigm, this book is a must-read for students of fire as well as anyone interested in understanding, preparing for, and acting on the ways wildfire will impact our communities."
— Dr. Thomas Zimmerman, President, International Association of Wildland Fire

"A crackling good read on why and how megafires are burning bigger, hotter, faster and wilder through North America's forests. Science reporting so close to the ground that you can feel the heat."
— Andrew Nikiforuk, journalist and author of Slick Water and Energy of Slaves