Getting Your Brain and Body Back: Everything You Need to Know after Spinal Cord Injury, Stroke, or Traumatic Brain Injury (Paperback)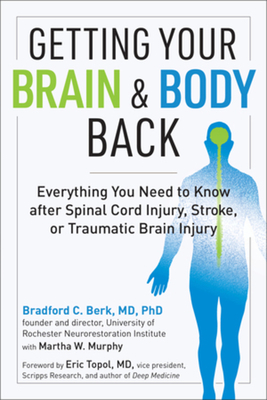 $19.95

Usually Ships in 1-5 Days
Description
---
Make the fullest possible recovery after neurological injury with this definitive guide—by a doctor and spinal cord injury survivor who's been there
After an accident that left him permanently paralyzed over ten years ago, Dr. Bradford Berk made it his mission to help others recover from acute neurological injury (ANI). As the founder and director of the University of Rochester Neurorestoration Institute, he brings his abundant experience in working with patients and making his own ongoing recovery to
Getting Your Brain and Body Back,
the most up-to-date guide for survivors of spinal cord injury (SCI), stroke, and traumatic brain injury (TBI).
Each of these acute neurological injuries can result in similar physical and psychological challenges and require similar treatments, medications, and assistive devices.
Getting Your Brain and Body Back
offers comprehensive, reassuring guidance for your every concern:
How to deal with grief and trauma in the aftermath of accident or injury—and build resilience as you find your way forward
What adaptive devices—for bathing, dining, mobility, and more—will help you enjoy life to the utmost
How to prevent and treat secondary health problems of every kind, such as heart, skin, and bladder troubles—sexual health included!
Therapeutic approaches from both Western and Eastern medicine to consider for maximum healing and pain relief
Dr. Berk's candid advice on medical treatment and daily living—plus insights from the brightest minds in the field—will help get you or your loved one back to life.
About the Author
---
Bradford C. Berk, MD, PhD, is a board-certified cardiologist and a Distinguished University Professor in Medicine, Neurology, Pathology, Pharmacology & Physiology, and Physical Medicine & Rehabilitation. He is the founder and Director of the University of Rochester Neurorestoration Institute. He was formerly Chief of the Cardiology Division at the University of Rochester Medical Center, and then Chairman of Medicine, before being named CEO of University of Rochester Medical Center and Senior Vice President of Health Sciences at the University of Rochester. In 2021 he was named one of City & State New York's Life Sciences Power 50 for cofounding NeuroCuresNY, a clinical trials network that uses robotic technology to measure the effect of drugs on recovery from paralysis. He lives in Pittsford, New York.

Martha Watson Murphy is an award-winning author who has written, co-written, edited, or developed more than thirty books. Her areas of interest include health; food and the people who bring it to us; life in out-of-the-way places; how-to; memoir; business; and our relationship with dogs.
 

Eric Topol, MD, is the director of the Scripps Translational Science Institute and co-founder and vice-chairman of the West Wireless Health Institute in La Jolla, California. He is a practicing cardiologist at the Scripps Clinic and a professor of genomics at The Scripps Research Institute. One of the top ten most cited researchers in medicine, Topol was elected to the Institute of Medicine of the National Academy of Sciences and has led many of the trials that have shaped contemporary treatment for heart disease. He lives in La Jolla, California.
Praise For…
---
"Berk brings his unique blend of personal and professional experience to this all-encompassing neurological recovery guide."—New Mobility 

"Riveting and compelling. At last, a book of hope for those who have been offered little in the past. Dr Berk's inspiring personal story combined with his empowering and evidence-based advice make this a must-read for those who have suffered catastrophic neurological injury."—Gary Gibbons, M.D., PhD, Director, NIH National Heart, Lung and Blood Institute
 
"Dr. Berk is living proof that focused and purposeful mental effort can result in remarkable function, life satisfaction and contribution to the world. His book provides expert and inspiring guidance for the many people who seek to overcome catastrophic injuries and get back to life."—Robert Califf, M.D., Former Commissioner, U.S. Food and Drug Administration (FDA)
 
"In his engaging and informative book, Dr. Berk puts the focus on patients and families, giving them the tools they need for successful rehabilitation."—Steven Kirshblum, M.D., Senior Medical Officer at Kessler Institute for Rehabilitation; Chief Medical Officer at Kessler Foundation; Chair of the Department of Physical Medicine and Rehabilitation at Rutgers New Jersey Medical School
 
"In this important book, drawing both from his personal experience and the latest research, Dr. Berk shows us how to use the mind to restore the body. After thirty-six years of living with a spinal cord injury, finally words of wisdom that can be put into practice."—Rob Tortorella, B.A., (C6-7 paraplegic), Executive Chairman, Corrosion Products & Equipment, Inc.