Beastly Bones: A Jackaby Novel (Hardcover)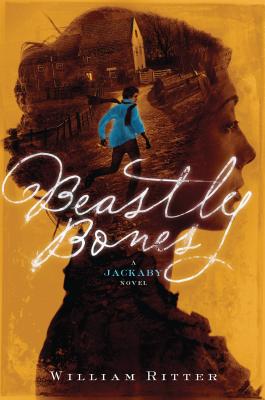 $17.95
Email or call for price.
Other Books in Series
This is book number 2 in the Jackaby series.
Description
---
"I've found very little about private detective R. F. Jackaby to be standard in the time I've known him. Working as his assistant tends to call for a somewhat flexible relationship with reality . . ."

In 1892, New Fiddleham, New England, things are never quite what they seem, especially when Abigail Rook and her eccentric employer, R. F. Jackaby, are called upon to investigate the supernatural.

First, members of a particularly vicious species of shape-shifters disguise themselves as a litter of kittens. A day later, their owner is found murdered, with a single mysterious puncture wound to her neck. Then, in nearby Gad's Valley, dinosaur bones from a recent dig go missing, and an unidentifiable beast attacks animals and people, leaving their mangled bodies behind. Policeman Charlie Cane, exiled from New Fiddleham to the valley, calls on Abigail for help, and soon Abigail and Jackaby are on the hunt for a thief, a monster, and a murderer.

Beastly Bones, the second installment in the series, delivers the same quirky humor and unforgettable characters as Jackaby, the book the Chicago Tribune called "Sherlock Holmes crossed with Buffy the Vampire Slayer."

A 2016 YALSA Best Fiction for Young Adults Title

 
About the Author
---
William Ritter began writing the Jackaby series in the middle of the night when his son was still an infant. After getting up to care for him, Will would lie awake, his mind creating rich worlds and fantasies--such as the one in New Fiddleham. Will lives and teaches in Springfield, Oregon. Beastly Bones is his second novel.
Praise For…
---
A 2016 YALSA Best Fiction for Young Adults Title

"In this sequel to Jackaby (Algonquin, 2014), Ritter seamlessly presents enough backstory for newcomers to thoroughly enjoy this hybrid of historical fiction and fantasy . . . On a scale of 'one to pomegranate,' this volume is undoubtedly a pomegranate; it offers humor, adventure, mystery, gore, and romance all rolled into one well-written package. The best news? There is more to come, as Ritter sets up Jackaby and Rook's next case regarding the ephemeral Jenny, murdered many years ago." —School Library Journal, starred review

"Recommend this to readers who enjoy Doctor Who, Supernatural, Grimm, Dresden Files, Harry Potter, and, of course, Sherlock Holmes stories, and who are ready to stay up into the wee hours reading." —VOYA, starred review

"[A] fast-paced sequel to Jackaby . . . As bones go missing--and then small livestock--methodical investigation and scientific experimentation yield to madcap chases, slapstick humor, and romance. Ritter's blends--fantasy and mystery, action and tension, oddball detective and able sidekick--employ but exceed their stock elements. With one case closed but two unsolved, the well-matched, well-written duo will undoubtedly return to fight a more fearsome foe. A witty and weird adventure equal parts Sherlock and Three Stooges." —Kirkus Reviews, starred review

"The fun continues in this Holmsien follow-up to Jackaby. . . Fans of the first novel will be pleased with this entertaining sequel, rich in intrigue and imagination." —Booklist"Jackaby's sense of humor, ever droll and capricious, shines once again in this sequel. The storytelling is just as solid and absorbing, too, even with quite the crowd—shape-shifters, rival paleontologists, an avid hunter, a livestock-pillaging predator, an intrepid journalist—and there's a bit of romance as well." –The Horn Book

"Critics laud William Ritter's Jackaby series as perfect for fans of Sherlock, Harry Potter, Doctor Who, and Supernatural – and while that's a tall order for any book, I'm happy to report that Jackaby and its sequel, Beastly Bones, more than fit the bill! Utterly charming."—Mugglenet  "Jackaby — aptly described as a mix between Sherlock and the Doctor — is in fine form with this sequel, which picks up nicely following the events of the first book. Fans will eagerly dive into his latest adventure with his assistant Abigail, as they find themselves on another mysterious and possibly magical case. The tone and atmosphere of Ritter's novels are immersive and delightful." —Novel Novice"Jackaby was one of my stand out reads last year and when I found out there would be a series I was so excited…If you're looking for a fun read, filled with quirky characters and lots of the paranormal, you definitely need to be reading these books. Ritter tells an amazingly unique story full of action and mystery." —Fiction Fare"I really enjoyed the plot of Beastly Bones. It was definitely fast-paced and so fun! The mysteries themselves weren't that easy to solve, and I liked that even when I thought I had everything figured out, there was another twist. I really loved the characters as well. Jackaby is still the right mix of the Tenth Doctor and Sherlock and Abigail is spunky and interesting in her own right. She doesn't stand at the sidelines nor does she attempt to follow the stereotypical expectations that others expect of her. —Read.Sleep.Repeat. "Beastly Bones will make you smile. I found myself grinning ridiculously in public at the bits of humor in Beastly Bones. It's subtle, but very effective in breaking the serious moments. You find the humor in Jackaby's mannerisms, his interactions, and what he says (he made a rolling-your-eyes type of pun that had me snickering despite myself). It makes everything so much delightful, and I cannot stress how wonderfully timed they were. —The Novel Hermit