L. Ron Hubbard Presents Writers of the Future Volume 39: The Best New SF & Fantasy of the Year (Paperback)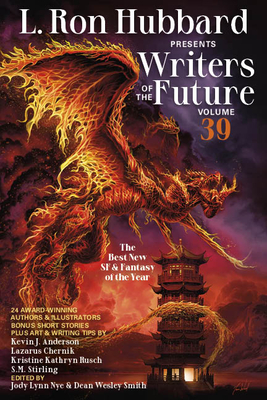 $22.95

Usually Ships in 1-5 Days
Description
---
In the world of speculative fiction…
Your favorite authors…
have selected the best new voices of the year.
24 Award-winning Authors and Illustrators
3 Bonus Short Stories by Kevin J. Anderson • L. Ron Hubbard • S. M. Stirling
Art and Writing Tips by Lazarus Chernik • L. Ron Hubbard • Kristine Kathryn Rusch
Edited by Dean Wesley Smith • Jody Lynn Nye
16-page color gallery of artwork • Cover art by Tom Wood
Check out the stories Brandon Sanderson, Orson Scott Card, Nnedi Okorafor, Robert J. Sawyer, Kevin J. Anderson, Jody Lynn Nye and others chose as the best of the best.
Be amazed. Be amused. Be transported … by stories that take you by surprise and take you further and deeper into new worlds and new ideas than you've ever gone before….
Twelve captivating tales from the most exciting new voices in science fiction and fantasy accompanied by three from masters of the genre.