Long Road to Liquor City (Paperback)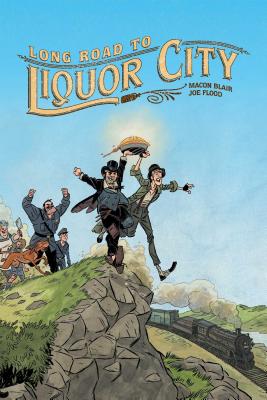 $19.99
Email or call for price.
Description
---
From filmmaker Macon Blair (Blue Ruin, I Don't Feel at Home in This World Anymore) and artist Joe Flood (Science Comics) comes a Great Depression-era adventure comedy about love, friendship, and the pursuit of happiness.

As jaunty hobos Jed and Thanny crisscross the country in search of the fabled Liquor City, they are pursued relentlessly by fearsome rail yard sergeant Ronan O'Feathers, who wrongly blames them for his wife's death. With the law on their tail and a succession of colorful characters along the way, the only constant is the absurdity and mayhem they leave in their wake on the Long Road to Liquor City.
About the Author
---
Macon Blair is a writer, actor, and director living in Austin, Texas. His credits in various capacities include Hold The Dark, Blue Ruin, Green Room, Logan Lucky, The Florida Project, and I Don't Feel At Home In This World Anymore. He's written comic book stories for Marvel, Dark Horse, and Image. He previously collaborated with Joe Flood on the graphic novel Hellcity, and Long Road To Liquor City has been a labor of love for them in the years since then.

Joe Flood is a comic book author and artist whose work includes Cellies (Lion Forge Comics), Pirates of the Caribbean (written by Chris Schweizer) and two educational graphic novels for First Second Books' "Science Comics" series—Dinosaurs (written by MK Reed) and Sharks. Joe lives in New York's Hudson Valley with his wife and daughter.