The Way of the Superior Man: A Spiritual Guide to Mastering the Challenges of Women, Work, and Sexual Desire (20th Anniversary Edition) (Paperback)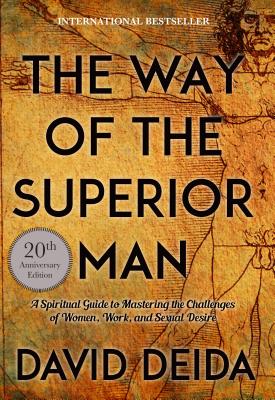 $19.99

Usually Ships in 1-5 Days
Description
---
Though much has changed in society since the first publication of The Way of the Superior Man, men of all ages still "tussle with the challenges of women, work, and sexual desire." Including an all-new preface by author David Deida, this 20th-anniversary edition of the classic guide to male spirituality offers the next generation the opportunity to cultivate trust in the moment and put forth the best versions of themselves in an ever-changing world.

In The Way of the Superior Man, Deida explores the most important issues in men's lives—from career and family to women and intimacy to love and spirituality—to offer a practical guidebook for living a masculine life of integrity, authenticity, and freedom. Join this bestselling author and internationally renowned expert on sexual spirituality for straightforward advice, empowering skills, body practices, and more to help you realize a life of fulfillment, immediately and without compromise.
About the Author
---
Acknowledged as one of the most insightful and provocative teachers of our time, bestselling author David Deida continues to revolutionize the way that men and women grow spiritually and sexually. His ten books are published in more than twenty-five languages worldwide and are required reading in university, church, and spiritual center courses. His workshops on a radically practical spirituality have been hailed as among the most original and authentic contributions to the field of self-development currently available. He is a founding member of Integral Institute, and has taught and conducted research at the University of California-San Diego School of Medicine, University of California-Santa Cruz, San Jose State University, Lexington Institute in Boston, and Ecole Polytechnique in Paris, France. Some of his recent books include Blue Truth, The Enlightened Sex Manual, The Way of the Superior Man, and Instant Enlightenment.
Praise For…
---
"The Way of the Superior Man lays out a challenge before all men to fulfill their true purpose and to be authentically masculine. It will guide you on your journey to a successful and spiritually complete way of life. Step up to the plate with this book in your hand." —Tony Robbins, author of Awaken the Giant Within and Unlimited Power

"David Deida must have the biggest balls in contemporary spirituality." —Vijay Rana, Watkins Mind Body Spirit

"As a woman, I've never felt so understood and validated." —Marci Shimoff, coauthor of Chicken Soup for the Woman's Soul

"The openness, the love! What lively new language David Deida finds for the unsayable!" —Coleman Barks, author of The Essential Rumi

"Every once in a while, someone comes along whose work is clearly a next step. Their ideas seem to answer some collective question hanging out in the culture. Their books and seminars become an underground buzz and, within a period of time, their ideas become part of our cultural vernacular. David Deida is such a person. In a time not too far off from now, his ideas will have spread like wildfire." —Marianne Williamson, author of A Return to Love

"Finally, a guide for the non-castrated male. This book will offend and infuriate some, inspire and test others, but challenge virtually everybody. Few are the books that discuss strong sexuality within strong spirituality. Love it or loathe it, it is a shout from the heart of one perspective of the eternal masculine." —Ken Wilber, author of Sex, Ecology, Spirituality; No Boundary; and Grace and Grit

"There are few categories I know of for an original like David Deida; for his teachings there is no pigeonhole. He is a bridge-builder between East and West, between ancient and modern wisdom traditions. David is in the dynamic living oral tradition of maverick spiritual teachers who, like free-jazz musicians, can riff directly on Reality, outside of established forms. Mark my words: in a future that I hope is not too far off, David Deida's original western Dharma will be widely known as one of the most sublime and accessible expressions of the essence of spiritual practice that is freely offered today." —Lama Surya Das, author of Awakening the Buddha Within

"David Deida's work reveals a depth of loving the human condition and understanding its immanent spirituality I've seldom seen, even in a glimmer. It's hard for me to find words with which to express my appreciation and admiration for this unique gift." —Jenny Wade, PhD, author of Changes of Mind

"David Deida brings spirituality down from the clouds and back into our bodies where it belongs. His no-nonsense approach to refining our spiritual sensibilities comes as a welcome intervention to both New Age and conservative trends in contemporary spirituality. Deida helps us to get REAL in a world where reality is an increasingly rare commodity." —Mariana Caplan, author of Halfway Up the Mountain: The Error of Premature Claims to Enlightenment

"I feel that Deida has reached a new level of poetic genius in his writing, and his understanding of feminine psychology astounds me." —Miranda Shaw, PhD, author of Passionate Enlightenment: Women in Tantric Buddhism

"The Way of the Superior Man is a bold and challenging and very perceptive book. The cutting-edge masculinity of these pages is sexually strong and spiritually clear . . . Deida challenges and instructs men to live on their edge, to go forth uncompromisingly in search of their own deepest truths and greatest purpose. He pulls no punches and brooks no weakness." —NAPRA Review

"With uncommon honesty and unparalleled insight into the deepest desires of the masculine heart, Deida explores the most challenging and important issues in men's lives. Covering everything from work and career, to dealing with sex, women, and love, to finding purpose in an increasingly superficial and mechanical world, The Way of the Superior Man reveals how a man can live a life of fulfillment without compromise by relaxing into the truth of his very being, discovering his deepest vision, and giving his gifts without holding anything back. What emerges is a wholly revolutionary look at what it means to be a man in today's world as well as an astonishingly practical guidebook to living a masculine life of integrity, authenticity, and freedom." —The Midwest Book Review, Reviewer's Choice