Conquer Your Chronic Pain: A Life-Changing Drug-Free Approach for Relief, Recovery, and Restoration (Paperback)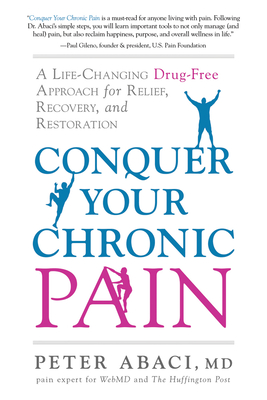 $17.95
Email or call for price.
Description
---
Conquer Your Chronic Pain offers the millions of chronic-pain sufferers throughout the world a transformative model for pain management. Dr. Abaci is a pioneer in understanding the biopsychosocial aspect of chronic pain and patients' demands for a more holistic and personal approach to pain management.

Dr. Abaci details his own struggle with injury, surgery, and conventional recovery and pain management, then offers a wide variety of case studies and clear explanations of the latest scientific research to reveal how chronic pain creates a brain-based disease that will only respond to integrated therapies.

For two decades, Dr. Abaci's approach has helped transform the lives of thousands of people devastated by pain.

If you are suffering from chronic pain and are tired of failed treatments and too many pills, relief starts here!
About the Author
---
Peter Abaci, MD, is one of the world's leading experts on pain. He is the author of Take Charge of Your Chronic Pain, host of Health Revolution Radio, and a regular contributor to WebMD, The Huffington Post, and PainReliefRevolution.com. As the medical director and cofounder of the Bay Area Pain and Wellness Center, his innovative strategies for integrative pain treatment have helped restore the lives of thousands struggling with pain. Dr. Abaci's publications on pain treatment have become trusted resources for patients, family members, doctors, psychologists, physical therapists, and even insurance companies. He resides with his family in Los Gatos, California. For more information, visit www.peterabaci.com.
Praise For…
---
"Conquer Your Chronic Pain is a must-read for anyone living with pain. Following Dr. Abaci's simple steps, you will learn important tools to not only manage (and heal) pain, but also reclaim happiness, purpose, and overall wellness in life."
— Paul Gileno, founder & president, U.S. Pain Foundation

"This book is a powerful tool for pain patients who don't understand why the pain management system needs changes.... Dr. Abaci lays out the compelling reasons for this and backs [them] up with [his] personal experiences as a pain-management provider and as someone who has faced living with chronic pain himself."
— Barby Ingle, president, Power of Pain Foundation

"A comprehensive, thoughtful, and empowering guide on how to win the battle against chronic pain and put an end to America's epidemic of pain killer addiction."
— Vijay B. Vad, MD, sports medicine specialist at the Hospital for Special Surgery and author of Back Rx

"People dealing with long-term pain will feel as if Peter Abaci is listening to them, rather than simply writing a prescription. The book will show people in pain how to change their lives for the better, and gives physicians, practitioners of complementary therapies, and caregivers insight into how to more fully help those in their care."
— Foreword