Overcoming the Destructive Inner Voice: True Stories of Therapy and Transformation (Paperback)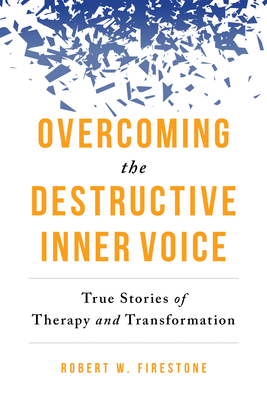 $18.00

Usually Ships in 1-5 Days
Description
---
Many people grapple with destructive thought processes or a "critical inner voice" that directs their behavior and, to varying degrees, limits their lives. Using deeply personal and very human stories based on his own clinical practice, noted psychologist Robert W. Firestone illustrates the struggles of his clients to give words to this "enemy within," and in the process overcome its damaging influence. These revealing and captivating stories offer glimpses into the uniquely human relationship that develops in the therapeutic encounter and demonstrate the powerful impact that the experience has on both client and therapist.
    
Dr. Firestone is the originator of a therapeutic method called "Voice Therapy," by which clients learn to identify the language of the defense system and eventually separate their own point of view from its harmful effects. Each story provides an intimate look into one person's life, illuminates aspects of his or her "dark side," and highlights an important insight into the therapeutic process.
    
This sensitively written book will evoke emotional responses in readers, and inspire them to take action to challenge the dictates of their own inner critic. Taken together, these stories underscore the distinctive merits and continuing relevance of the therapeutic process, especially in our distracted, technological world increasingly detached from feeling.
About the Author
---
Robert W. Firestone, PhD, psychologist and author, has been affiliated with the Glendon Association as its consulting theorist since its inception. His innovative ideas related to psychotherapy, couple and family relationships, suicide, parenting, and existential issues have been the inspiration and cornerstone of Glendon's research and publications.
    
From 1957 to 1979, Dr. Firestone was engaged in the private practice of psychotherapy as a clinical psychologist working with a wide range of patients. From that time up to the present he has worked with high-functioning individuals in group settings, amplifying his original ideas on schizophrenia and applying these concepts to a comprehensive theory of neurosis.
    
Dr. Firestone's studies on negative thought processes and their associated effects have led to the development of Voice Therapy, an advanced therapeutic methodology to uncover and contend with aspects of self-destructive and self-limiting behaviors.
   
Dr. Firestone is the author of many books, most recently The Self Under Siege: A Therapeutic Model for Differentiation, with Lisa Firestone and Joyce Catlett.
Praise For…
---
"Poignant and profound. Overcoming the Destructive Inner Voice presents case studies by Robert W. Firestone. His work has always been, and remains, at the cutting edge of theory and clinical practice. A joy to read—for clinicians, researchers, and people interested in fostering personal growth and social progress."

—Sheldon Solomon, professor of psychology, Skidmore College, and coauthor of The Worm at the Core: On the Role of Death in Life

"Unearthing the origins of one's inner critic is the premise of psychologist Firestone's compilation of illustrative real-life therapy sessions. The author believes unexpressed emotions often lie at the root of physical and mental discomfort, and unearthing these causes is at the center of his approach. Rounding off these 11 personal accounts is an appendix that plainly illustrates the how-tos of voice therapy, making it clear that anyone can practice it with or without a therapist. . . . Professionals in the field of psychology will find the book repays the reading time with plenty of insight." 

—Publishers Weekly
 
"A very special book that is destined to join the seminal books of psychotherapy. Overcoming the Destructive Inner Voice is written in the tradition of Yalom's Love's Executioner and Whitaker and Napier's The Family Crucible. This book is both a literary and a psychological treasure. The eleven touching and beautiful stories perform a type of narrative therapy for the reader. Dr. Firestone increases the reader's self-awareness just like he does in his real-life voice-therapy sessions. Readers will feel as if they are in the room as the highlights of the therapy process unfold, and they will learn how internalized voices guide an individual's feelings and actions in life. This is a book that you will read over and over. A must-read for therapists and all others who want to know about how to change and grow through talk therapy."

—Jon Carlson, PsyD, EdD, ABPP, Distinguished Professor, Adler University, Chicago
 
"This book is a wonderful surprise. It is so well-written and informative. We learn a bit about Dr. Firestone's life and quite a bit about his work. The stories about his clients were fascinating."
 
—Violet Oaklander, PhD, author of Windows to Our Children
 
"Firestone takes us on a journey to discover who we are and why we sometimes hurt ourselves emotionally. . . . Each case will touch the reader intellectually and emotionally, and will reveal that Dr. Firestone understands the human condition and, more important, how to make it better. This book is a must-read not only for students training to be psychotherapists but also for anyone wanting to learn more about what it means to be totally human."

—Stephen Nowicki, PhD, ABPP, Candler Professor of Psychology, Emeritus, Emory University, and author of Choice or Chance: Understanding Your Locus of Control and Why It Matters