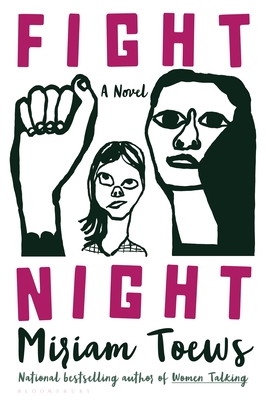 $24.00
Email or call for price.
Staff Reviews
---
Such an original book! Told from the perspective of Swiv, a 9 year old girl writing a letter to her father, who has abandoned her and her pregnant mother.  Swiv has been suspended from school for fighting and spends most of her days caring for her grandmother, while her pregnant mother, an actress, rehearses a play.  Her observations of adult life are hilarious and perceptive, but the multigenerational female relationships form the heart of the book. 
— Amy
October 2021 Indie Next List
---
"Told from the perspective of a little girl named Swiv, who lives with her pregnant mother and eccentric grandmother, Fight Night is filled with laugh-out-loud, subtle, and smart observations of family dynamics and the human condition."
— Mia Wigmore, DIESEL, A Bookstore (Brentwood), Brentwood, CA
Description
---
"Move over, Scout Finch! There's a new contender for feistiest girl in fiction, and her name is Swiv." -USA Today, "Best Books of the Year"

"Toews is a master of dialogue." -New York Times Book Review, Editors' Choice

"A revelation." -Richard Russo

NPR Best Books of the Year * Shortlisted for the Scotiabank Giller Prize * Writers' Trust Fiction Prize Finalist * Indie Next Pick * Amazon Editors' Pick * Apple Book of the Month

From the bestselling author of Women Talking and All My Puny Sorrows, a compassionate, darkly humorous, and deeply wise novel about three generations of women.

"You're a small thing," Grandma writes, "and you must learn to fight." Swiv's Grandma, Elvira, has been fighting all her life. From her upbringing in a strict religious community, she has fought those who wanted to take away her joy, her independence, and her spirit. She has fought to make peace with her loved ones when they have chosen to leave her. And now, even as her health fails, Grandma is fighting for her family: for her daughter, partnerless and in the third term of a pregnancy; and for her granddaughter Swiv, a spirited nine-year-old who has been suspended from school. Cramped together in their Toronto home, on the precipice of extraordinary change, Grandma and Swiv undertake a vital new project, setting out to explain their lives in letters they will never send.

Alternating between the exuberant, precocious voice of young Swiv and her irrepressible, tenacious Grandma, Fight Night is a love letter to mothers and grandmothers, and to all the women who are still fighting—painfully, ferociously— for a way to live on their own terms.
About the Author
---
Miriam Toews is the author of the bestselling novels All My Puny Sorrows, Summer of My Amazing Luck, A Boy of Good Breeding, A Complicated Kindness, The Flying Troutmans, Irma Voth, Fight Night, and one work of nonfiction, Swing Low: A Life. She is winner of the Governor General's Award for Fiction, the Libris Award for Fiction Book of the Year, the Rogers Writers' Trust Fiction Prize, and the Writers' Trust Engel/Findley Award. She lives in Toronto.
Praise For…
---
"Toews is a master of dialogue, swirling the adults' perspectives through Swiv's imperfect ventriloquism as if she were mixing paints." - New York Times Book Review, Editors' Choice

"Ardent, hilarious, and moving." - NPR.org

"If the book's overwhelming tenderness makes the reader cry, they'll be, as Swiv's mother teaches her, 'tears of happiness.'" - Nadja Spiegelman, New York Times

"A touching tribute to the matrilineal bond among three women of different generations." - Los Angeles Times

"Toews will make you cheer and sob for all concerned." - Boston Globe

"Go Grandma Elvira!" - Margaret Atwood via Twitter

"The last book that made me cry. It took only a line or two to be reminded of why I read fiction and why I write it. Toews doesn't simply narrate a story; she fashions a world." - Joshua Ferris, The Guardian

"A big-hearted, briskly paced family saga about the extraordinary love that binds three generations of free-spirited women together, and the tools and techniques that they've had to develop to survive." - USA Today, "Best Books of the Year"

"You wouldn't think it's possible to write a book about a family grappling with the legacy of mental illness that's also hilarious. But Miriam is such a beautiful and funny writer. She really locates the comedy in difficult life situations. I recommend it [Fight Night] so highly." - Rumaan Alam on NBC-TV TODAY, "What to Read"

"I laughed and cried reading this book; I can't think of a higher endorsement." - BuzzFeed, "Best Books of the Year"

"Toews can always see the light through the darkness, and with grace and tenderness and humor, tells how to live with it, really live." - Literary Hub, "Favorite Books of the Year"

"A love letter to our brave and brilliant matriarchs." - Glamour

"A novel as moving as it is full of humor . . . As Susan Cole, in Now Magazine, says, 'Few authors mix humor and deep emotion with Toews's skill.'" - The Millions, "Most Anticipated"

"Miriam Toews [is] a master of the novel. Every book of hers is magic. This one's magic is terrifying, perhaps even more than others, but it's compelling and inescapable, demanding to be read." - New York Journal of Books

"Nobody writes books like Miriam Toews—you feel her characters down to the bone, and she can straddle the horrific to the humorous across a single sentence. Fight Night is a hymn to women fighting for themselves and their families." - New York Public Library "Staff Pick"

"Beguiling . . . [A] wonderful tragi-comic work of fiction." - National Book Review

"Gorgeous . . . Strong, vibrant matriarchs are hard enough to come by in literature. Even more so, when they are dynamic, hilarious, kind. [Fight Night] is a master class in confronting the darker corners of reality with acceptance and a view toward the future and toward expectation of joy." - Feminist Book Club podcast

"Fight Night brings it. Every corner of human emotion is nudged, awakened, revealed . . . This novel is a reminder of the full potential of a book to connect us to our humanity and to inspire us to fight another day." - The Southern Bookseller Review

"Fierce and funny, this gives undeniable testimony to the life force of family . . . a knockout." - Publishers Weekly, starred review

"[A] charming, open-hearted book . . . Funny and sad and exquisitely tender." - Kirkus Reviews, starred review, "Best Fiction of the Year"

"Brilliant . . . Toews gives Swiv a voice that is sophisticated, childlike and utterly believable. . . . the wonder of Fight Night is that it's a warmhearted and inventive portrait of women who have learned to fight against adversity." - BookPage, starred review

"Women Talking author Toews is at the top of her game in this novel . . . [It's] fierce and funny, and gives undeniable testimony to the life force of family." - Publishers Weekly, "Holiday Gift Guide"

"[A] tightknit, funny, ferocious trio . . . This novel, with its stream-of-consciousness style, unfiltered raucous humor, and hard-won wisdom is the kind of reading that makes me evangelical. I adored the girl and the women in Fight Night and am grateful to Miriam Toews to bringing them so beautifully to life." - Gilmore Guide to Books

"In Fight Night as in her previous books, Miriam Toews is a genius. Her gigantic mind and heart are singular; her sentence-making powers, extraordinary. Living in a time when Toews is writing is a reason to rejoice." - R.O. Kwon, author of THE INCENDIARIES

"Fight Night is a headlong rush of a novel narrated by a precocious nine-year-old girl who is doing everything she can to keep her troubled mother from falling apart and her irrepressible grandmother alive. Tender, heart-wrenching, darkly funny, and ultimately joyful, this novel pulses with life." - Christina Baker Kline, bestselling author of THE EXILES and ORPHAN TRAIN

"Miriam Toews is wickedly funny and fearlessly honest . . . She is an artist of escape; she always finds a way for her characters, trapped by circumstance, to liberate themselves." - The New Yorker

"I read in one sitting, it was that good." - Sarah Polley