Awakening: Ladies, Leadership, and the Lies We've Been Told (Paperback)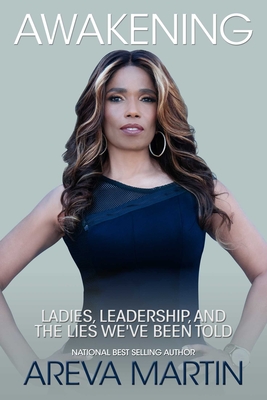 $16.95

Usually Ships in 1-5 Days
Description
---
Anyone who is looking to move forward in their career will gain insight and enjoy anecdotes from Areva Martin's Awakening, which calls out the lies told by a patriarchal society and calls in all people to work toward a more equitable one. A SELF-HELP BOOK AND FEMINIST MANIFESTO ALL IN ONE - AWAKENING IS A CALL FOR ACTION AND GENDER EQUITY IN A POST-COVID WORLD.
Awakening
goes beyond the idea that women should ask for a seat at the table. Areva Martin makes the case for women to tear down the building, build anew, and choose tables that make room for everyone.
Martin does this by exposing five lies told by society that have kept women held back for so long. By further exploring the problem and offering solutions that benefit all people,
Awakening
gives women in all careers a path toward a more equitable world. Pick up
Awakening
for your next book club, to gift to a new grad, or to show a woman in your life that you support their journey.
Uncover the lies we have been told and discover how we can move toward a more equitable world.
Areva Martin provides statistics and stories on how our current system works to keep women as the inferior sex and why it needs a complete overhaul.
Case studies from real women at work demonstrate the barriers that hold women back and the conflicts that they face if they choose to start a family.
Readers will explore "how we got here" and the movements, milestones, and men who have shaped where women stand in the workplace today.
Martin zooms out to describe how expectations, norms, and culture need to change before equity can be achieved.
Action items throughout the book offer small and quick exercises that become stepping stones to larger solutions.
The past decade has been a whirlwind of fighting for equity, seeing the consequences of small-scale strategies, and being pushed back by the COVID-19 pandemic. Areva Martin lays all of this out on the table and provides a map for pushing forward in the corporate jungle, nonprofit world, and society at large.
Grab your copy of Awakening today to expose the lies told by society and become leaders at work and home.
About the Author
---
AREVA MARTIN is an award-winning attorney, advocate, legal and social issues commentator, talk show host, and producer. A CNN Legal Analyst and co-host of the 2018 syndicated talk show Face the Truth, Areva is an audience favorite on a long list of shows from Dr. Phil, The Doctors, Good Morning America and World News Tonight to her web-based talk show The Special Report.

A best-selling author, Areva has dedicated her fourth book to helping women worldwide recognize, own and assert their limitless power.

Areva is the founder of Special Needs Network, Inc., California's premier autism advocacy organization. She has raised millions of dollars for autism, and has played a leadership role in advocating for state and federal laws to eliminate disparities in state funding for individuals with disabilities. Her extensive experience in community outreach and activism has positioned her to become one of the top female entrepreneurs of the 21st century. Those credentials, along with her humble beginnings in North St. Louis and passion for life as a mother, wife, and entrepreneur, make her uniquely qualified to speak on the current state of affairs regarding female leadership, and the need for an empowered female workforce.

A Harvard Law School graduate, Areva founded the Los Angeles based civil rights firm, Martin & Martin, LLP and the health technology company Butterflly Health, Inc.