My Green Notebook: "Know Thyself" Before Changing Jobs (Paperback)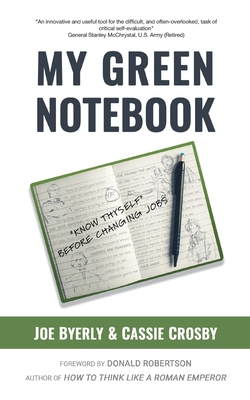 $15.95

Usually Ships in 1-5 Days
Description
---
My Green Notebook: "Know Thyself" Before Changing Jobs is a guided reflection developed to draw out your lessons learned and help you thrive as a leader as you take on positions of increased responsibility, regardless of your line of work. We believe that reading, writing, and reflection are the keys to self-improvement and development. This notebook is your opportunity to spend a few minutes with yourself each day for a month and examine your experiences so that you can better understand your strengths and weaknesses and, more importantly, determine your opportunities for growth.
"The book is original, innovative, invaluable-a portal into the mindset of a leader and a guide for the rest of us in enhancing our own mindfulness and self-awareness."
Steven Pressfield,
Bestselling author of Gates of Fire and The War of Art
"When you change jobs, you are expressing your values. You'll choose much more wisely and get much further faster if you slow down at this critical juncture and get explicit with yourself about your values. This book will help you get to know yourself a little better, so you can make a better choice about your next step."
Kim Scott,
Bestselling author of Radical Candor
"An innovative and useful tool for the difficult, and often-overlooked, task of critical self-evaluation"
General Stanley McChrystal, U.S. Army (Retired)