Chorus: A Novel (Paperback)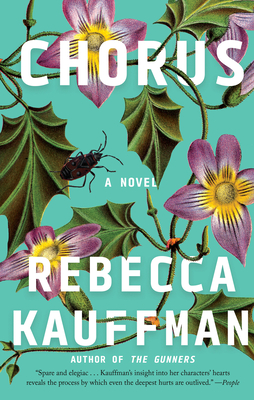 $16.95

Usually Ships in 1-5 Days
Description
---
For readers of Alice Munro, Elizabeth Strout, and Claire Lombardo, Chorus shepherds seven siblings through two life-altering events—their mother's untimely death, and a shocking teenage pregnancy—that ultimately follow them through their lives as individuals and as a family

The seven Shaw siblings have long been haunted by two early and profoundly consequential events. Told in turns from the early twentieth century through the 1950s, each sibling relays their own version of the memories that surround both their mother's mysterious death and the circumstances of one sister's scandalous teenage pregnancy. As they move into adulthood, the siblings assume new roles: caretaker to their aging father, addict, enabler, academic, decorated veteran, widow, and mothers and fathers to the next generation.

Entangled in a family knot, the Shaw siblings face divorce, drama, and death while haunted by a mother who was never truly there. Through this lens, they all seek not only to understand how her death shaped their family, but also to illuminate the insoluble nature of the many familial experiences we all encounter—the concept of home, the tenacity that is a family's love, and the unexpected ways through which healing can occur.

Chorus is a hopeful story of family, of loss and recovery, of complicated relationships forged between brothers and sisters as they move through life together, and of the unlikely forces that first drive them away and then ultimately back home.
About the Author
---
Rebecca Kauffman received her M.F.A. in creative writing from New York University. She is the author of Another Place You've Never Been, which was longlisted for the Center for Fiction First Novel Prize, The Gunners, which received the Premio Tribuk dei Librai award, and The House on Fripp Island. Originally from rural northeastern Ohio, she now lives in Virginia.
Praise For…
---
An Indie Next Pick
A Good Housekeeping Book of the Month
The Millions, A Most Anticipated Book of the Year

"Spare and elegiac . . . Kauffman's insight into her characters' hearts reveals the process by which even the deepest hurts are outlived." —People

"This is a story about love and its resilience, how much we really know about our own family and what binds them together even against seemingly insurmountable odds. Despite everything the world throws at them, the Shaws persevere, and that's a hopeful message we can all use." —Good Housekeeping

"Lyrical and character-driven." —Nicole Fowles, The Delaware Gazette

"A most wonderful novel. Full stop. From the first page, this is a book you will not want to put down . . . [T]hese people were so real, so human, in the way in which they each went about dealing with what life had thrown their way. There is compassion, even in disagreement. There is love, even when apart for long periods of time. There are secrets, long held and considered to be unforgivable—but maybe not. This is family . . . Chorus is a novel that is a delight to read, the writing pitch-perfect and the story more than satisfying." —Charlotte Stein, Metroland Media

"Chorus reveals how ultimately unknowable we are to each other, that often those who have known us the longest and at our most vulnerable are also those who overlook what they don't want to see, just as we often overlook those parts of ourselves . . . Chorus reveals the layers of self and its varied constructions, ultimately creating an honest, multi-layered portrait of a family . . . Kauffman's ending speaks to the hopefulness that can reside within families, the unique ability we have as siblings and sons and daughters to at least attempt a return to simpler times of loving and forgiveness." —Amber Ruth Paulen, Chicago Review of Books

"Each story-like chapter is so poignant—many with the feel of an Alice Munro story—it's easy to fall under Kauffman's spell. But when, after finishing the novel and viewing it in its entirety, the precision and care that went into plotting is clear. The pieces offered are all we need to know at each moment, and those pieces compile to reveal a portrait of the Shaw family . . . Chorus is indeed a near-perfect novel, reminding us that even as our losses magnify our flaws, recovery is possible when we have people who love us." —Rachel León, Southern Review of Books

"Each [chapter] is well crafted and offers a glimpse of a moment, a revelation or an interaction that enriches and expands our understanding of this family that is both stunningly ordinary and shockingly extraordinary . . . Chorus reminds us of the length of life and its complexity, of the ways in which family relationships both change continually and, at their heart, remain steadfastly the same." —Norah Pielh, Bookreporter

"Kauffman's luminous latest showcases her knack for delving into the hearts of her characters . . . Vibrant . . . Adds up to a superbly executed saga." —Publishers Weekly, (starred review)

"Kauffman has written a deceptively light tale about the heart of a family healing around a defining loss and siblings sustaining each other through adulthood, with lovely phrases and prose throughout. Though the sections are never weighty, together they form a satisfying story of complicated relationships against the backdrop of a 'beautiful world [with] a forked tongue.' A comforting and pastoral novel." —Kirkus Reviews

"Lovely . . . Readable and compelling . . . The novel's arrangement feels meaningful as turning-point moments in the sibling's lives take center stage, one after the other . . . Kauffman's writing style renders complex dynamics in simple, impactful language and scenes." —Booklist

"Readers . . . will be happy to see [Kauffman] return with this packed family tale." —Library Journal

"Rebecca Kauffman's compact and ingeniously-arranged Chorus depicts the Shaw family and its long-held secrets with admirable clarity, as well as a sympathetic understanding of the good intentions and misjudgments that give rise to those secrets in the first place. As she guides us through the episodes of the Shaws' lives—each glittering with the mysterious warmth of an heirloom ornament on a Christmas tree—Kauffman makes us freshly aware of how the people most dear to us, like the organs of the body, are hidden simply by virtue of being so vital and so close." —Martin Seay, author of The Mirror Thief

"Rebecca Kauffman is one of our finest literary architects. With unusual empathy, she drafts complex portraits of people, revealing the humanity present in even the most flawed being. In Chorus, she elegantly charts the nuanced connections and fractures between family members, crafting her story from fleeting moments, shivers of understanding, always illuminating the sweetness and sorrow that exists in even the smallest detail." —David Connerley Nahm, author of Ancient Oceans of Central Kentucky

"As vast, clear, and iconic as only timeless stories are, Kauffman's Chorus is a key: meet the Shaw family and discover, in its infinite and invisible complexity, the universal core of your own." —Rebecca Dinerstein Knight, author of Hex and The Sunlit Night

"Chorus is an intimate, affecting, and exquisite portrait of an American family that feels as real as any I've ever known. Deeply wounded by the absence of their mother—during her life as well as after her mysterious death—the Shaw children find their fiercest and most defining bonds with each other. This is the private account of their secrets, desires, resentments, affections, the unspoken grief of leaving one home behind to form another, and a family's very idea of itself. I loved it." —Eleanor Henderson, author of Ten Thousand Saints