Fodor's Washington D.C 25 Best 2021 (Full-Color Travel Guide) (Paperback)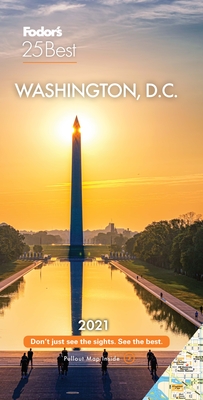 Description
---
For a limited time, receive a free Fodor's Guide to Safe and Healthy Travel e-book with the purchase of this guidebook Go to fodors.com for details.
Compact and affordable, Fodor's 25 Best Washington DC 2021 is a great travel guide for those who want an easy-to-pack guidebook and map to one of the most exciting cities in the United States.
Fodor's 25 Best Guides offer highlights of major city destinations in a compact package that includes a sturdy, detailed street map you can bring along with you to help you navigate when cell service is not available. By focusing only on top sights--all divided by neighborhood--we make planning your days easy.
Save time and space by having Washington DC's top 25 sights and experiences in one convenient guidebook:
UPDATED FOR 2021: Fully updated coverage on the information you need to know
DISCERNING RECOMMENDATIONS: Best bets from local writers for sightseeing, eating, drinking, sleeping, and shopping, for every budget.
GORGEOUS PHOTOS AND MAPS: Full-color photos and full-size street maps cover the best Washington D.C. has to offer, all in one easy-to-use package. A handy, weather-resistant pullout city map will help you quickly orient yourself and plan your day.
INDISPENSABLE TRIP-PLANNING TOOLS: The "City Tours" section shows off the best of the city with self-guided tour ideas. Plan excursions outside the city with the "More to See" section.
PRACTICAL TIPS AND PHRASES: Travel like a local with our "Need to Know" section, filled with useful travel tips.
COVERS: The White House, FDR and Jefferson Memorials, the Lincoln and Martin Luther King, Jr. Memorials, National Air and Space Museum, the Holocaust Museum, the National Museum of the Native American, National Museum of African American History and Culture, the Washington Monument, Arlington Cemetery, and more
ABOUT FODOR'S AUTHORS: Each Fodor's Travel Guide is researched and written by local experts. Fodor's guidebooks have been offering expert advice for all tastes and budgets for 80 years.
Planning to visit other destinations in the region? Check out Fodor's 25 Best New York City and Fodor's Philadelphia.