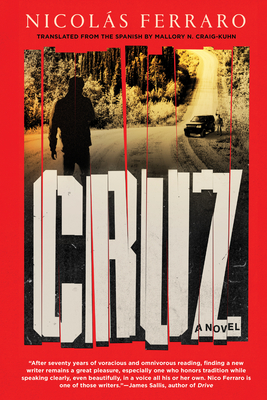 $27.95

Usually Ships in 1-5 Days
Description
---
Set in northern Argentina, the gorgeous and gruesome story of two brothers following in their criminal father's footsteps in a bloody battle to save their family from drug lords, perfect for fans of Don Winslow and Narcos.

Tomás Cruz swore he would never be like his father, an abusive cocaine junkie whose gangland exploits are notorious throughout the underbelly of northern Argentina. When Samuel Cruz is sentenced to thirteen years in prison, he leaves a laundry list of unfinished cartel business. Seba, Tomás's revered older brother, has no choice but to abandon his straight life and take over his father's underworld debt.

Now fifteen years has passed, Seba has been arrested, and the ruthless cartel boss is holding his wife and daughter as collateral—just in time for the holidays. Tomás is forced to choose between protecting his family and his soul as he assumes the to-do list where Seba left off, plunging into the shocking depravity of the cartel to track a drug deal gone wrong. On a bloody quest for underworld justice that will take him from a nightmarish bar staffed by teenage sex slaves to the murky depths of the Paran River, Tomás discovers himself capable of violence he never thought possible. He must ask himself if he really is his father's son . . . and he may not like the answer.

Argentinian noir wunderkind Nicolás Ferraro's first novel to be translated into English, Cruz was a finalist for the prestigious Dashiell Hammett Award for Best Crime Novel.
About the Author
---
Nicolás Ferraro was born in Buenos Aires, Argentina, in 1986. While studying to become a graphic designer at the University of Buenos Aires, Ferraro earned a living by playing poker; now he works as the coordinator at the Center for Crime Fiction at Argentina's National Library. He discovered noir literature thanks to the video game Max Payne, and crime fiction immediately became as central to his existence as hamburgers and the NBA. Ferraro's debut novel, Dogo, was published in Argentina in 2016, and was a finalist for the Extremo Negro Award. Cruz, his first novel to be translated into English, has been published in Argentina, Mexico, Spain, and was a finalist for the Dashiell Hammett Award. His writing is frequently anthologized and he is currently at work on his fourth novel.
Praise For…
---
Praise for Cruz

An NPR Best Book of 2022
The Best International Crime Fiction of Fall 2022

"Cruz boldly examines the propensity for violent upheaval in the patriarchal and retaliatory system of cartels in northern Argentina. Such systems often mirror the corrupt and tyrannical political systems with which they work hand in hand. But Ferraro also portrays the personal moral rot that such systems create even in those well intentioned not to participate."
—Oprah Daily
 
"A vivid, bloody noir set amidst prison and gangland violence in northern Argentina, where two brothers swear themselves to different paths and wrestle with their father's violent legacy."
—CrimeReads

"Ferraro's portrait of a crushingly bleak hellscape where "hope and torture are the same word" is unremittingly violent, but he writes about that world with unabashed realism, breathtaking power, and a narrative ferocity that never lets up."
—Booklist, Starred Review

"Written with a relentless pace, Cruz explores the ferocity of family loyalty and treachery. This is a window into a world most people don't know and no one will forget."
—Chris Offutt, author of Shifty's Boys

"Ferraro's Cruz is like an exquisitely crafted blade, beautiful to the eye but deadly effective." 
—Reed Farrel Coleman, New York Times bestselling author of Sleepless City

"With a unique and savage talent, Ferraro shapes the darkest horrors of depravity into an engaging plot with a stunning climax. Cruz, a cunning bildungsroman of evil, entices the reader into murderous collusion with young Tomás, and the emotional impact resonates long after the final twist."
—Vicki Hendricks, author of Cruel Poetry

"Nicolás Ferraro is the kind of writer who understands how to use blood to tattoo a story on your soul. Cruz is a grimy, gritty, hyperviolent novel about debts, loyalty, and bad decisions that's as fast and brutal as a prison shanking, and you'll love every minute of it. Cruz says 'I love you' with its middle finger. Don't miss it."
—Gabino Iglesias, author of Coyote Songs

"As cold and shocking as a gun barrel against your neck, Cruz is about the blood you share with family, and the blood you spill because of it, set in the savage underbelly of Argentina. A darkly fun, fast-paced and compulsively readable noir thriller."
—Jordan Harper, Edgar Award–winning author of She Rides Shotgun

"After seventy years of voracious and omnivorous reading, finding a new writer remains a great pleasure, especially one who honors tradition while speaking clearly, even beautifully, in a voice all his or her own. Nico Ferraro is one of those writers."
—James Sallis, author of Drive and the Lew Griffin series

"The triple frontier, so sharp and treacherous. Nicolás Ferraro's prose in this magnificent novel is metallic and brief, and it makes the sound that death would make if it were close. This young author introduces a new language into crime fiction. A border language."
—Gabriela Cabezón Cámara, author of The Adventures of China Iron, shortlisted for the 2020 International Booker Prize
 
"This novel is a lens to hell. There are no good souls, not even Tomás's. And if there are, they don't last long, as they are lost in a labyrinth of narcos, pimps, and corrupt commissioners. Morals, here, adjust to what is convenient, to what is needed, to the opportunity to save one's skin."
—Horacio Convertini
 
"Cruz is a legacy of pain and death, full of hammering poetry. Nicolás Ferraro is the best Argentinian writer from his generation: he captures you from the inside and devastates you from the outside."
—Claudio Cerdán
 
"I haven't read anything so tough since Don Winslow's The Power of the Dog. Cruz is a great novel about smuggling, honor, loyalty, duty and violence, well-deserve nominee this year for the Hammett award from La Semana Negra de Gijón."
—Rodolfo Santullo
 
"Cruz is a Don Winslow book, but with more soul and melancholy."
—Giorgio Ballario

"A lover of the genre like few others, an excellent reader and a great conversationalist, Ferraro knows what he is doing and from the first moment he offers a book with these ingredients: violence, cross loyalties, internal conflicts and a good dose of action."
—Juan Carlos Galindo, El Pais

"Cruz is a magnificent noir novel with highly elevated action but also integrates a lot of depth to make the reader reflect. . . . The plot is magnificent, very measured and with perfectly studied twists. And a final blow that is the perfect finishing touch to a hard and stark novel."
—Marta Marne, Leer Sin Prisa

"Nicolás Ferraro is not only one of the brightest voices of noir that is coming to us from Argentina, but a kind of brilliant and even more explicit Peckinpah."
—Diego Ameixeiras, El Salto

"Cruz is a novel that is the daughter of its time, where the police genre and the noir genre regain their lost place, taking advantage of a political and social context that makes the lines between fiction and reality blurred, almost causing the emergence of a hyperrealism in literature."
—Gustavo Yuste, La Primera Piedra

"Cruz is a story of criminals, but its complexity is given by its modest but dignified exploration of the relationships between siblings and between parents and children."
—Nora de la Cruz, Casa del Tiempo

"Ferraro's style runs on well-designed rails to take the reader by the hand and drag them down the path of violence."
—Óscar Alarcón, El Popular