Rick Steves Snapshot Nice & the French Riviera (Paperback)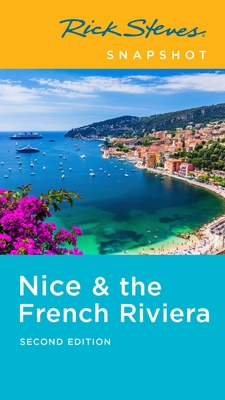 Description
---
With Rick Steves, Nice and the French Riviera are yours to discover! This slim guide excerpted from Rick Steves France includes:
Rick's firsthand, up-to-date advice on the best sights, restaurants, hotels, and more, plus tips to beat the crowds, skip the lines, and avoid tourist traps
Top sights and local experiences: Relax on seafront promenades and pebble beaches, stroll the yacht-filled harbors, and cycle or drive along scenic coastal roads. Explore medieval town centers and admire the works of Chagall and Matisse
Helpful maps and self-guided walking tours to keep you on track
Updated to reflect changes that occurred during the Covid-19 pandemic up to the date of publication
With selective coverage and Rick's trusted insight into the best things to do and see, Rick Steves Snapshot Nice & the French Riviera is truly a tour guide in your pocket.
  Exploring beyond Nice and the Riviera? Pick up
Rick Steves France
for comprehensive coverage, detailed itineraries, and essential information for planning a countrywide trip.
About the Author
---
Since 1973, Rick Steves has spent about four months a year exploring Europe. His mission: to empower Americans to have European trips that are fun, affordable, and culturally broadening. Rick produces a best-selling guidebook series, a public television series, and a public radio show, and organizes small-group tours that take over 30,000 travelers to Europe annually. He does all of this with the help of more than 100 well-traveled staff members at Rick Steves' Europe in Edmonds, WA (near Seattle). When not on the road, Rick is active in his church and with advocacy groups focused on economic and social justice, drug policy reform, and ending hunger. To recharge, Rick plays piano, relaxes at his family cabin in the Cascade Mountains, and spends time with his son Andy and daughter Jackie. Find out more about Rick at www.ricksteves.com and on Facebook.
Connect with Rick:facebook.com/RickStevestwitter: @RickStevesinstagram: ricksteveseurope
Steve Smith manages tour guides for Rick Steves' Europe tour program and has been researching guidebooks with Rick for over two decades. Fluent in French, he's lived in France on several occasions, starting when he was seven. Steve owns a restored farmhouse in rural Burgundy where he hangs his beret in research season. Steve's wife, Karen Lewis Smith-who is an expert on French cuisine and wine - provides invaluable contributions to his books.