Pixies of the Sixties: You Really Got Me Now (Paperback)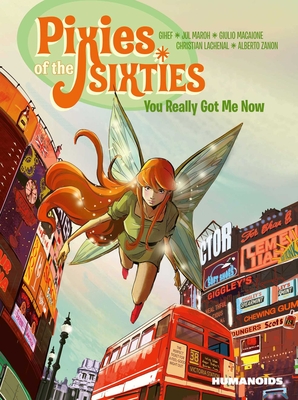 $22.99

Coming Soon - Available for Pre-Order Now
Description
---
In the 1960s United Kingdom, as Swinging London is underway, the existence of fairies is exposed to the light of day. Is humanity ready?

Contains a brand-new story from Jul Maroh, author of New York Times best selling book Blue Is The Warmest Color.

This volume contains two stories: Annan, the story of a young faerie who, drawn by the lights of Swinging London, leaves her forest to pursue her dreams of becoming a singer. She meets Stella, a human with whom she quickly falls in love. But her lover's disappearance will make Anann realize that beneath the glitz and glamour of the city, rejection is only a tiny part of what awaits her...

And Missing Persons of Imbolc: When she arrives in London to investigate a case of missing persons linked to a strange rite, Ailith gladly accepts help from her childhood friend, Eliott, a police officer who expresses clear anti-fairies opinions and blames them for all the major problems in London. When the investigation entrusted to Ailith leads her to the heart of the forest, she makes the most disturbing discovery, uncovering with it a deeply buried wound.
About the Author
---
Gihef, whose real name is Jean-François Baudot, was born in Belgium and grew up in France. Following his meeting with the cartoonist Eric Lenaerts, he moved toward a more realistic style of drawing. In 2001, he signed his first album, RIP Limited, with Nucléa. He then published comics at Vents d'Ouest and Dupuis. Gihef then turned to what really fascinates him: comic scenarios like OSS 117, L'Envers des Contes or Mister Hollywood. The origins of his universe is steeped with Nordic mythology which serves as the stage for the his series, Sirens and Vikings.

Jul Maroh is the author of the graphic novel Blue Is the Warmest Color, the New York Times bestseller that was made into an acclaimed and controversial film that won the Cannes Film Festival Palme d'Or in 2013. They are also author of the graphic novels Skandalon and Body Music. They live in Angouleme, France.